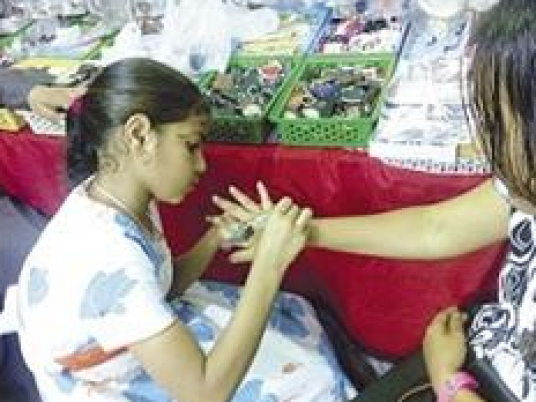 Despite her young age, the 13-year-old Shahenda Aboul Soun from Aswan can draw exquisite "henna" paintings, inspired by Nubian and Sudanese traditional art designs.
Because of her extraordinary talent, she has become the most famous "henna" painter in Libya Souk in Matrouh governorate, where customers from all over the region come looking for her.
Her first drawings, made with a pencil on a paper, were made at the age of 9. Her father encouraged her to deveop her talent and copy Nubian and Sudanese drawings, combining both of them in her works.
"I love drawing. I used to stay for long hours looking at Nubian drawings at my home," said Shahenda, who one day hopes to be able to take part in international competitions.
"Shahenda has adored drawing since she was a child, and was able to draw Nubian paintings professionally despite her very young age," said her father, Aboul Soud.
"Henna is widely used in Nubia, which is why I encouraged her to draw with henna in order to take advantage of her talent, and to help me in selling Nubian products and accessories," he added.
"Shahenda began to come with me to Matrouh, sit next to me in my shop in Libya Souk, then she began to paint henna on the hands, feet, and nails of customers," her father recounts, adding that she became so famous that customers began to come to her specifically from other governorates.
He pointed out that he taught his daughter how to mix the famous Aswan henna which remains on the body for a long time.
Edited translation from Al-Masry Al-Youm