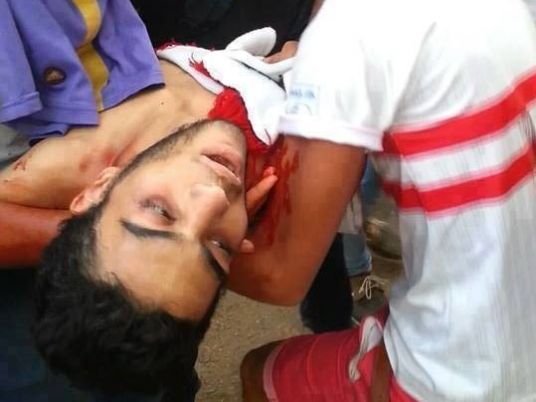 Sixteen human rights organizations have put full responsibility on police forces for the deaths of at least 19 football fans outside a Cairo stadium on Sunday.
In a joint statement published by the
Egyptian Center for Economic and Social Rights
(ECESR), the groups said the killings that extended to individuals of all political orientations were a result of an absence of accountability for human rights violations since the 2011 uprising, blaming prosecution services of "delinquency" and "possible complicity" by failing to prosecute security officials involved in such incidents.
While the Interior Ministry blamed the deaths of 19 fans from the Zamalek Sports Club outside the Air Defense Stadium on a stampede, members of the White Knights, the club's hardcore fan group, accused police of causing the deaths with a barrage of tear gas shot at them.
"The increasing number of victims of police crimes and the frequency of violence and killings over the past 18 months raises many questions around whether there is a political decision to give police the freedom of unpunished killing or whether this lack of accountability is due to a series of cover-ups," read the statement.
"The organizations stress that crimes and violations by the Interior Ministry push the country towards collapse, and render political and economic stability impossible."
The statement also pointed to the police's failure to abide by the rules of using tear gas, instead shooting the bombs into the middle of the crowd already crammed under the collapsed metal pathway erected by security forces. It explained that whether the deaths were caused by asphyxiation or blunt force trauma resulting from the stampede, tear gas was to blame in both cases.
The statement warned that the state's silence over, and media encouragement of, police killings stoke social feuds and increase the likelihood of more Egyptians being drafted by terrorist groups. It stressed that the absence of accountability could spur citizens to take the law into their own hands.
In addition to ECESR, signatories to the statement include the Egyptian Initiative for Personal Rights, the Cairo Center for Human Rights Studies and the Arabic Network for Human Rights Information, among others.