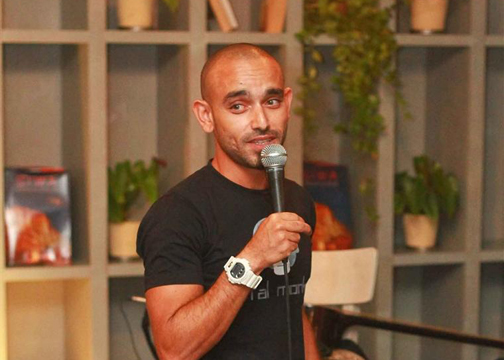 The idea is either completely insane or brilliantly adventurous, but perhaps Mohamed Safi is a little of both. The popular former radio host of Nile FM will embark on an ambitious trip for charity this September, where he will drive 3000 miles across India in a Tuk-Tuk to raise money for charitable causes. Many questions come to mind; the most pertinent of which is why.
Safi simply shrugs and says, "There is nothing better in the world than to have an adventure for a good cause."
Safi was mainly inspired by his 2010 trip, where he joined Egyptian travel company Wild Guanabana on a summit climb to Mount Kilimanjaro to raise money for The Right to Live Association, an Egyptian NGO that supports people with special needs. This life-changing experience broadened Safi's perspective on adventure travelling and inspired him to seek alternative ways of charity fundraising.
So this 5 September, Safi will join his fellow Egyptian Hassan Kreidli and Egyptian-Bahraini Ahmed Khalifa, along with two Indians and an American, in two teams of tuk-tuks, or auto-rickshaws as Indians call them, across the northern Indian landscape. Again, why?
"I've always wanted to visit India," he says smiling. Safi will face risks such as bandits, snakes and leeches, as well as accidents, injuries and disease, yet he doesn't seem bothered; his eyes are practically shining with excitement.
The tuk-tuk trip is organized by the Adventurists, a British adventure company that arranges daring annual rallies to raise money for charity, including a horse race across the Mongolian Steppe, a 2500 kilometer hike across Siberian wastelands and a rickshaw run in Indonesia. This year, 70 teams from around the world will participate in the rickshaw run, and a large portion of the funds will be donated to the Adventurists' official charity, Frank Water Projects, which works to provide clean water in impoverished Indian communities. So far, the Adventurists have raised one million British pounds for various charities, and this year, Safi has selected Egyptian initiative Educate Me as his charity of choice.
"Our team chose education as a general theme and Educate Me was my personal choice," says Safi. "Lots of NGOs take a lot more on their plate than they can handle, but Educate Me have very realistic goals and I love the work they're doing."
Fifty percent of the money raised by Safi's team will go towards Educate Me, while the rest will be divided between Frank Water Project and SOS Village in Gaza and ASHA for Education, an Indian education initiative. Safi plans to hold a second fundraiser upon his return to raise funds and talk about his exciting experience with the tuk-tuk.
His first was held at Left Bank in Zamalek last Monday, where he asked the audience to contribute up to LE200 per person to the cause. The event featured guest speakers Educate Me's founder Yasmine Helal and Amr El Salanekly to discuss the initiative's work and Egyptian mountaineer Omar Samra, who spoke about his experiences in adventure travelling and charity work.
"I'm very excited about Safi's trip because this is what we do in Wild Guanabana," Samra says. "We plan trips where we go out of our comfort zone and have adventures. I've seen Educate Me from birth and I'm very proud of Yasmine and Amr."
Educate Me was founded by Yasmine Helal in 2010 and works on educating children in impoverished Cairo slums by providing for their education but also coaching them on leadership skills and other character-building skills.
"The best way to help kids is to ask them what they want to do and help them achieve their goals," Helal explains. "It's not about what adults or society wants them to do; this philosophy is called 'unschooling', where we educate them opposite to the current education system, which is counter-productive."
Safi hopes to raise LE20,000 over the next month for Educate Me and the other initiatives. He is officially the first Egyptian to take part in the Indian rickshaw run and is taking his preparations for the trip seriously.
"I haven't taken the elevator in two weeks," he says with a smile. "And I live on the twelfth floor." In addition to strength training and cardio, he recently completed a two-week walking trip around Europe to prepare physically. He's not fussed about taking malaria pills or other precautionary shots; to him, the adventure comes with the unpredictability of the future, such as getting overtaken by a Bengal tiger.
"Technically a Tuk-tuk's maximum speed is 55km/hr, which is slower than the speed of a Bengal tiger," he says. He hopes to return to Egypt with photos of these beautiful tigers.