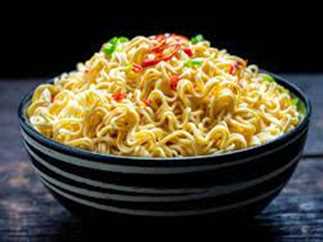 The Egyptian Food Safety Authority announced that 733,340 cartons of different Indomie product flavors have been withdrawn from the market.
The manufacturing company was given an ultimatum of 48 hours to withdraw its non-conforming products.
The authority added, in a statement, that the owner company was still continuing to withdraw its products that do not comply with food safety requirements, in addition to offering instant noodles without chili bags.
The authority explained that the company was given a 48-hour deadline to withdraw the non-conforming chili and flavors  permanently from the market.
The authority applies an effective system on food producers to track the process of food manufacturing during all its stages, until it reaches the consumer at various outlets, the statement said.
The authority stressed that this procedure is carried out almost on a daily basis, in various developed countries of the world: where regulatory authorities recall the non-conforming product in order to ensure the health of the consumer and the reputation of the producing facility.
The statement confirmed stopping dealing with the company producing the flavors until corrective measures are taken to ensure that the product is free of contaminants and pathogens.
This will remove the claim written on the product packages regarding the benefits of vitamin B and mineral salts of iron, zinc and calcium.
The company responded immediately by withdrawing withdrawing 733,340 cartons of different Indomie flavors, as well as offering instant noodles without chili bags and without the claim mentioned on the packages about vitamin and mineral content.