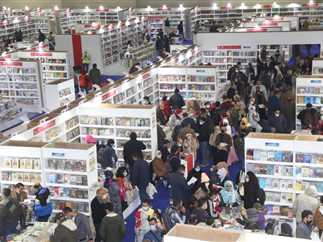 Minister of Culture Enas Abdel Dayem expressed her great happiness at the public attendance on the first day of the 53rd session of the Cairo International Book Fair, which recorded 91,000 visitors.
She added that the number of visitors reflected their serious desire for knowledge, pointing out that the e- platform of the exhibition has received huge interaction as well.
Head of the General Egyptian Book Organization, Haitham al-Hajj Ali,  announced that the digital platform of the book fair recorded on the first day of the fair inauguration about 44.5 million visits from various countries of the world.
Top visits in order were from Egypt, Saudi Arabia, the US, the UAE, Kuwait, UK, Germany, Qatar, Jordan, and Oman. 
The number of registered visitors on the platform reached nearly 300,000, and the number of virtual tour visits to the exhibition reached 3,247, while the number of tickets booked on the e-platform was nearly 40,000. The number of book views on the platform for publishing houses participating in the exhibition recorded more than 26,500 views.
The number of pavilions in the exhibition is 879 pavilions.
The 53rd session of the Cairo International Book Fair is held under the auspices of President Abdel Fattah al-Sisi, and was inaugurated by Prime Minister Mostafa Madbouly, and will be held at the Egypt International Exhibition Center – EIEC in New Cairo, and will continue until February 7, 2022.
The exhibition is considered one of the largest actual gatherings of publishers in the world, where 1,063 Egyptian, Arab and foreign publishers representing 51 countries, take part. Greece is this year's guest of honor country.
The 53rd book fair edition will see the launch of the digital project of books of the General Egyptian Book Authority.
For the first time in the history of the exhibition, the latest methods of technological development and artificial intelligence are used, as writer Yahya Haqqi will appear using hologram technology in an interactive display with the audience, through a touch screen.
The children's hall-goers can also watch one of the stories of the late writer Abdel Tawab Youssef in virtual hologram technology using 3D glasses.
The value of the exhibition prizes in all fields were increased for this year, in cooperation with the National Bank of Egypt, and a new category has been introduced for the Best Arab Publisher award.
The  Ministry plans to provide the online sale of books on the exhibition's digital platform, and to provide delivery services, in cooperation with the Egypt Post, to any place inside Egypt.