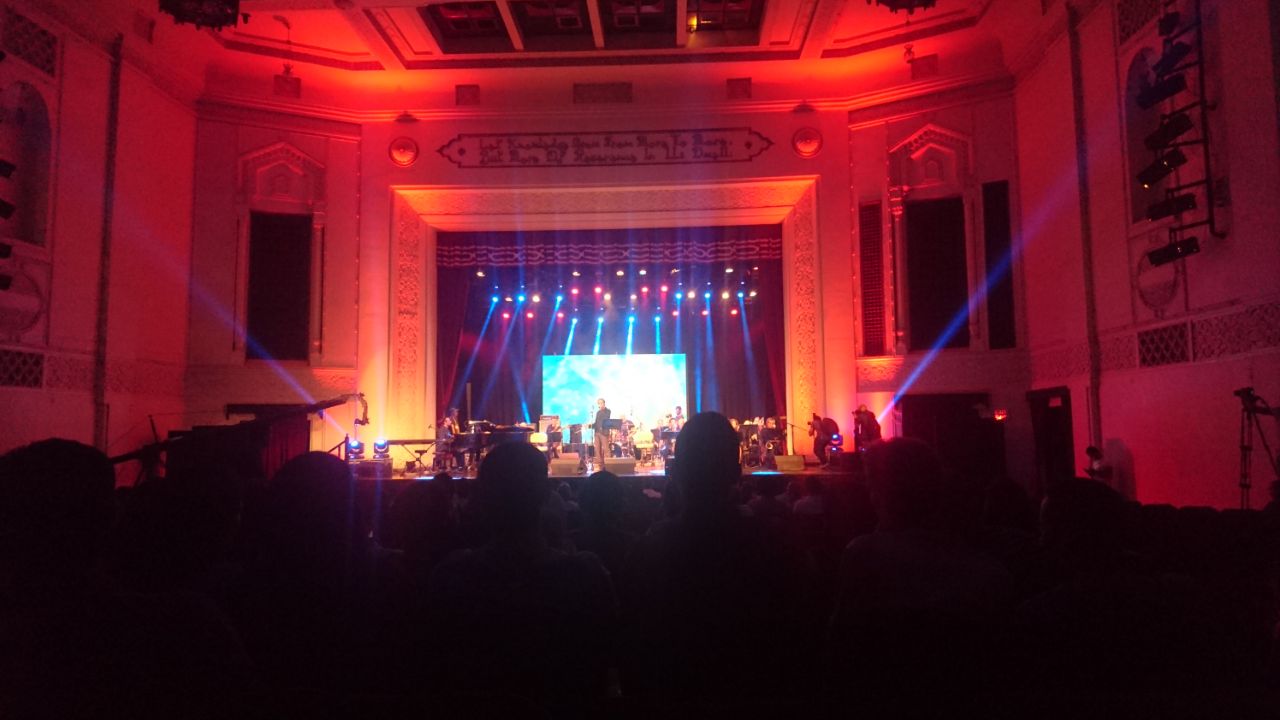 Jazz enthusiasts headed to the heart of downtown at AUC Tahrir for the opening night of the 9th Cairo Jazz Festival (CJF) which runs until 30 September.
First up on stage were The Cairo Big Band Society, followed by Mathias Heise Quadrillion from Denmark, and Eftekasat.
Composed of nearly 15 musicians, the Cairo Big Band Society plays old style compositions influenced by artists like Frank Sinatra and Bobby Darin. Throughout their lineup, a surprise performance by the one and only Massar Egbari came up. The band presented a kind of Alternative Egyptian Music, mixing rock, jazz and blues with some oriental music.
Hesham Galal started up The Cairo Big band after he specialized in studying big band ensembles. Upon his return to Cairo from Sydney, he realised the need for a proper big band jazz ensemble playing old style compositions from the golden era of the genre. Galal started the Cairo Big Band Society during 2016 and has been performing regularly ever since.
The next act was the Danish Mathias Heise Quadrillion compromising of Mathias Heise (harmonica/keys), Mads Christiansen (guitar), David Vang (bass), and Aksel Stadel Borum (drums.)
Founded in 2012, Heise is very much inspired by the fusion genre, where he has created a completely unique and very personal sound combining the chromatic harmonica with new, updated Funk-Rock-Jazz fusion (FuRoJazz).
Closing the night was Egyptian oriental band Eftekasat compromising of Amro Salah – (piano, keys,) Samer George (bass,) Sherif Alaa, (guitar) Ahmad Hesham, (drums, ) Mohamad Aly( violin, vocals,) Hany Bedair (percussion,) and Laith Sulaiman (nay.)
Established in late 2001, Eftekasat gave their debut performance in February 2002 at the Cairo Jazz Club. With three albums, two awards and several TV shows under their belt, the band spends their time between playing at Saturday Nightlife Arabia, and performing at various Egyptian venues and around the globe.
Eftekasat is one of the very few Egyptian independent music groups that have managed to establish themselves on the scene in such little time. Their original compositions can be classified as oriental jazz/fusion/jazz rock and sometimes world music, insofar as they attempt to find a new, unorthodox dimension for oriental musical themes through fusion with other musical styles, such as jazz, rock, and latin.
You can find the lineup for the next couple of days below.