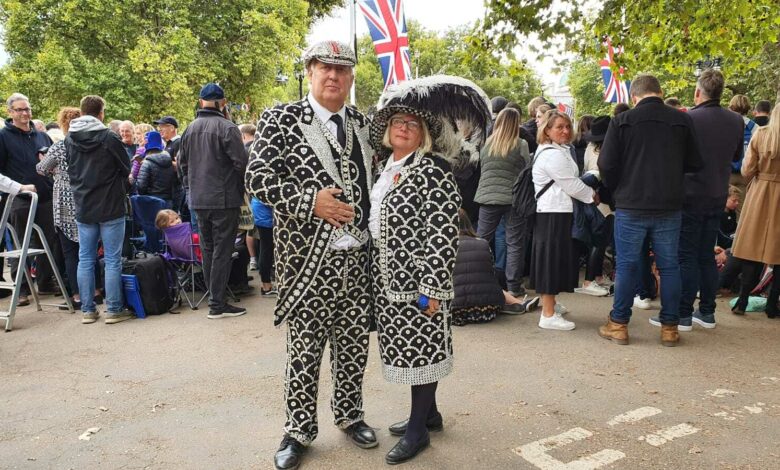 Donned in a black and white feathered hat and in a hand-sewn pearl button suit, Pearly Queen Michelle Thorpe, 55, said she decided to come to the Mall — which links Buckingham Palace to Trafalgar Square — as she loves Queen Elizabeth II.
We love the Queen, so we're saying our last goodbye. We have so many memories of the Queen and have come down here for everything," she said.
The Pearly King and Queens are an instantly recognizable London institution dating back 150 years. They evolved from Coster Kings and Queens, who were elected as leaders of London's street traders, according to their website.
Traditionally, each Pearlie sews their own pearl button suit before being crowned, often decorated with family symbols: a heart for charity, a horseshoe for luck, for example.
Next to Thorpe is her husband is Jimmy Jukes, in a similarly ornate outfit as he is a Pearlie King.
"My favorite memory was receiving my MBE [Member of the Most Excellent Order of the British Empire] from Her Majesty The Queen in Buckingham palace in 2015," he said. "We're here for our affection for the Queen and say goodbye for the final time."