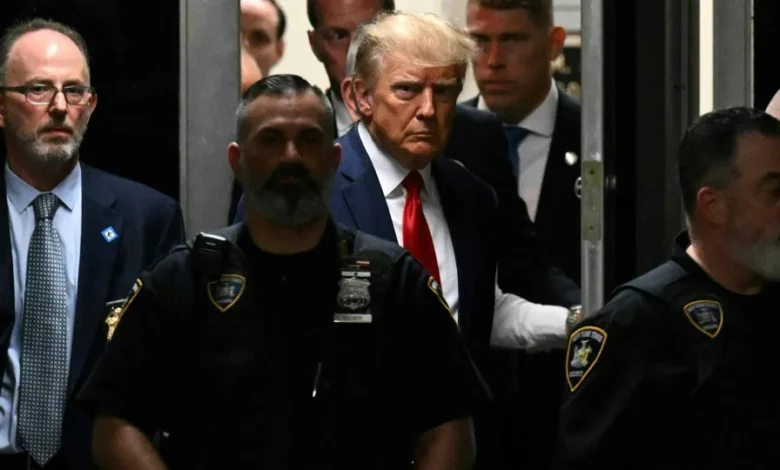 There were two big things to fear before Tuesday's momentous first criminal arraignment of an ex-president of the United States.
The first was that while Manhattan District Attorney Alvin Bragg's case might cite solid evidence of alleged wrongdoing by Donald Trump, his legal theory might prove too vague, complex and seem like too much of a throwback to a 7-year-old election to be an easy sell to the public.
The other was that Trump would respond with such fury and incitement that he would rip even deeper divides in a nation estranged by his aberrant presidency and stoke new turmoil that could further damage vital political and judicial institutions.
Both of those worst-of-all-worlds scenarios came true on a day that Trump described as "SURREAL" in a social media post sent as he motorcaded to court to turn himself in. The result is that another grim and even tragic chapter may lie ahead for a country that is still far from working through the fallout from Trump's single term as it girds for yet another bitter election.
One of the most portentous days in American legal history began with the ex-president leaving his skyscraper home in the city where he found fame as a real estate shark and tabloid-filling celebrity but that was now set to place him under arrest.
Trump walked slowly through the door of the courthouse and was taken to be fingerprinted. News photographs of the once-most-powerful man in the world – with a face like thunder, seated at a table with lawyers like any other defendant – reflected his moment of stunning indignity.
Trump kept silent in court, saying little other than "not guilty," and he didn't speak to reporters after the hearing. But by the time he swapped the spartan decor of the courtroom for friendly turf, under the crystal chandeliers in his gold-leafed resort in Florida, Trump was ready to erupt.
"Our country's gone to Hell," he declared, in a rambling tirade bursting with conspiracy theories that also expanded into an angry rant against prosecutors in other, potentially more serious investigations than the one in Manhattan.
His furious reaction to those cases showed he is increasingly worried about his vulnerability as prosecutors in separate investigations probe his bid to steal Joe Biden's election win in Georgia in 2020, his hoarding of classified documents and his behavior ahead of the January 6, 2021, insurrection. But it also pointed to the fact that with several investigations apparently close to wrapping up, there is a possibility that Trump could soon face even more indictments.
Given that the next hearing in the Manhattan case is on December 4, and the other cases appear to address more grave constitutional questions, it's possible that Tuesday's events could well be overtaken. The day a former president was charged with a crime will always be remembered, but it might come to be seen as the start of an ominous process for Trump more than a historic culmination.
Bragg leaves serious questions unanswered
Bragg's case rests on the simple and vital premise that no one – not even an ex-president with his sights on the White House again – should be above the law. But the district attorney's critics are concerned that another equally and opposing principle is at play – whether someone who is famous, rich and powerful is being prosecuted while a less notorious person might be let go.
"The defendant Donald J. Trump repeatedly and fraudulently falsified New York business records to conceal criminal conduct that hid damaging information from the voting public during the 2016 presidential election," read the statement of facts that accompanied the indictment.
The charging documents say that Trump and his then-lawyer, Michael Cohen, worked with American Media Inc. to make payments to adult film star Stormy Daniels and former Playboy model Karen McDougal as well to a doorman at Trump Tower. Hush money payouts are not illegal. But Bragg, a Democrat, alleges that Trump falsified business records to hide the payments. Normally, such transgressions would be mere misdemeanors. But Bragg suggested that a felony can be charged if the books were cooked to hide evidence of criminal conduct connected to the 2016 campaign.
Trump's behavior detailed in court documents and in a previous case involving Cohen was certainly sleazy. But some legal analysts pointed out that Bragg's legal roadmap could open the way to robust pre-trial motions by Trump's attorneys.
Former FBI Deputy Director Andrew McCabe told CNN Tuesday evening that there was "disappointment" among his fellow veteran law enforcement officers that the Bragg indictment and statement of facts had not been more specific on the leap required to charge Trump with a felony.
"Everyone was hoping we would see more about the direction that they intend to take this prosecution, what is the legal theory that ties that very solid misdemeanor case … to the intent to conceal another crime?" McCabe said.
"At the end of the day, if all of our legal friends read this indictment and don't see a way to a felony, it's hard to imagine convincing a jury that they should get there."
Still, Bragg insisted that a decision not to prosecute Trump would go against every core principle of American justice.
"We cannot and will not normalize serious criminal conduct," he said at a news conference after Trump appeared in court. He said such cases were not unusual, but "the bread and butter" of his office's work.
"At its core, this case today is one with allegations like so many of our white collar cases. Allegations that someone lied again, and again, to protect their interests and evade the laws to which we are all held accountable," Bragg said.
The apparent complexity of the legal case will play out in court. But it will also have important political reverberations, given Trump's status as a former president who is seeking to win back the White House in 2024.
If it is hard even for lawyers to follow the reasoning behind Bragg's case, it will be harder for everyone else to do so. Many may question whether falsifying business records to cover up an alleged affair from years before the 2016 election, which now feels long ago, truly justifies the politically radioactive step of charging an ex-president for the first time in America's history. (Trump has denied the affair.)
The sense that the Bragg indictment could rebound against the district attorney and benefit Trump politically was captured by some Republicans who do not support the former president – like former Trump national security adviser John Bolton in an appearance on CNN. Another Trump critic, Utah Sen. Mitt Romney, also criticized the case.
"I believe President Trump's character and conduct make him unfit for office. Even so, I believe the New York prosecutor has stretched to reach felony criminal charges in order to fit a political agenda," Romney said.
Trump unleashes on Bragg and judge
Like any American in his position, Trump should have the presumption of innocence until proven guilty. Unlike many other defendants, he can have every legal resource at his disposal and try to mount an attempt to dismiss the case before it reaches a possible trial.
But he's not waiting.
After getting a hero's welcome at home in Mar-a-Lago, he unleashed a tirade that bristled with falsehoods about the investigations against him, Biden's presidency and his term in office. He renewed the false claims that the 2020 election was stolen from him and styled Bragg's investigation and others as an attempt to fix another election.
"They can't beat us at the ballot box so they try and beat us through the law," he claimed in a speech in which he also alleged the judge in the Manhattan case and his wife were "Trump hating." The ex-president's logic was often difficult to follow and he shouted certain words for emphasis in a way that expressed his fury. But while rambling, Trump opened another window into one of the most sinister aspects of the invective reminiscent of his "American carnage" inaugural speech.
By seeking to destroy trust in institutions that seek to constrain his behavior, and claiming he is the victim of political persecution, he is following the playbook of some of the world's most notorious demagogues. Trump's talent for such propaganda is underscored by the way that he has convinced millions of his supporters that the last election was corrupt.
Some political pundits have predicted that Trump's indictment could help him politically, at least in the short term. His campaign has said fundraising dollars have been pouring in since the grand jury voted to indict him last week. And Trump's opponents and potential rivals for the GOP nomination have had little choice but to line up and criticize Bragg over his actions if they want to avoid alienating Trump's base.
But months ahead of the GOP primary, it's impossible to know how Tuesday's events will play out. Past evidence suggests that the more extreme Trump gets, the more popular he becomes with base voters.
But the past also has less favorable political lessons for the ex-president. The extremism that he displayed on Tuesday night to a primetime television audience was exactly the brand of radicalism that contributed to disappointing Republican finishes in the 2020 election and the 2022 midterms.