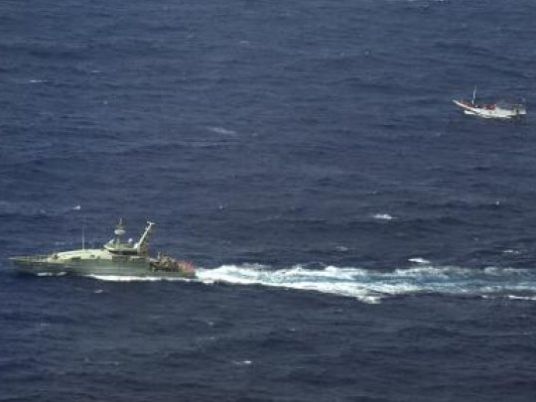 Australian authorities work within the law to stop asylum-seeker boats, Prime Minister Tony Abbott insisted Tuesday, after reports officials have made cash payments to members of people-smuggling rings for years.
The government has refused to deny reports that six Indonesian crew members were paid $US5,000 each to return an asylum-seeker vessel to Indonesia in late May, saying no comment will be made on operational issues.
Indonesia has pushed for answers, with Vice President Jusuf Kalla warning Monday that paying people-smugglers would amount to "bribery".
Abbott said that while Australia would do "whatever is necessary" to crack down on people-smuggling, he was confident officials had worked within the law.
"The most moral thing you can do here is stop the boats because as long as the boats are coming the evil people-smuggling trade is in business and the deaths continue," Abbott told reporters in Canberra.
"So we've done the right thing, we've done the moral thing, the decent thing, the compassionate thing. We've stopped the boats by doing whatever is necessary within the law to stop the boats."
The Sydney Morning Herald reported Tuesday that multiple sources said payments were made by intelligence officials to those involved with people-smuggling over at least four years, including under the previous Labor government.
Opposition leader Bill Shorten said the Labor Party had never paid people-smugglers to turn around boats at sea, but said he would not comment on specific intelligence operations.
Independent lawmaker Andrew Wilkie, a former intelligence analyst, said he was aware of "disruption operations" over a decade ago, but it mostly involved intelligence sharing with Indonesian authorities.
"What I saw was sensible and legal, and more about steering Indonesian intelligence towards the smugglers," Wilkie told Australian Associated Press.
Wilkie said it was not an offence under Australian law for the Australian Secret Intelligence Service (ASIS), which collects foreign intelligence, to break the domestic law of another country.
Asked whether it was legal for ASIS to pay boat crew to turn boats around, Abbott replied: "I am absolutely confident that at all times Australian agencies have acted within the law."
The issue of people-smuggling boats sailing from Indonesia to Australia has been a sensitive one between Canberra and Jakarta for years, but particularly since Abbott committed to turning back boats to Indonesia.
The latest controversy comes after relations were strained by Indonesia's execution of two Australian drug smugglers, Andrew Chan and Myuran Sukumaran, after they spent a decade on death row.
However Abbott said ties with Indonesia had been strengthened by the fact that the flow of asylum-seeker boats leaving that country for Australia had dried up.
"We have a good relationship with Indonesia," he said, adding that thanks to cooperation between the nations, some 250 people-smugglers were in jail, mostly in Indonesia.
Australia has a hardline policy to stop the flow of people-smuggling boats, which includes refusing to resettle asylum-seekers who arrive on unauthorised vessels even if they are found to be genuine refugees.
They are instead detained in immigration camps on the Pacific islands of Nauru and Papua New Guinea, despite harsh criticism from rights groups.