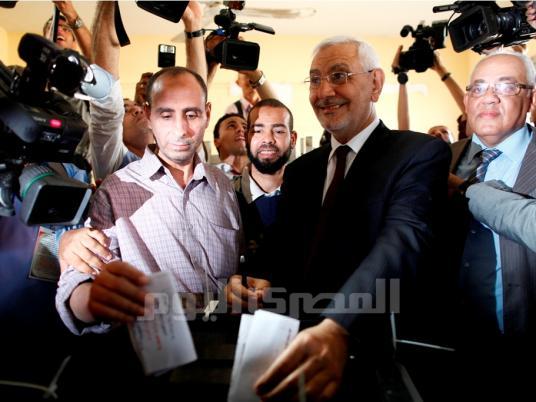 Abdel Moneim Abouel Fotouh on Thursday issued a statement saying that he met with political figures in the last few days, including Muslim Brotherhood candidate Mohamed Morsy, to discuss his proposals for a national consensus in the post-election period.
"There is a scheme to hijack the future of Egypt that the revolution was leading toward," he said in the statement. "The election results were not what people wanted, and we must beware of the danger that awaits the goals of this revolution."
Abouel Fotouh came in fourth place in the first round of the presidential election, in which Morsy finished first. Morsy is competing in the runoff against Ahmed Shafiq, the last prime minister under Mubarak. Supporters of the revolution are now split between voting for the Brotherhood, which has drawn criticism from several political forces since the start of the transition period, and boycotting the election, fearing a recreation of another Mubarak regime epitomized in Shafiq.
Abouel Fotouh briefed Morsy on certain conditions he deems necessary for the coming period, namely that the Constituent Assembly that would draft the new constitution should represent all segments of society, include a reasonable number of jurists to be headed by a respectable public figure, pass its decisions by two-thirds of its members, and announce its formation before the runoff.
He also suggested the appointment of two vice presidents that are approved by all Egyptians, and a coalition government headed by a public figure from outside the majority party and comprised of technocrats not belonging to any political party.
Finally, he suggested that the president should not have any partisan affiliation.
Edited translation from Al-Masry Al-Youm