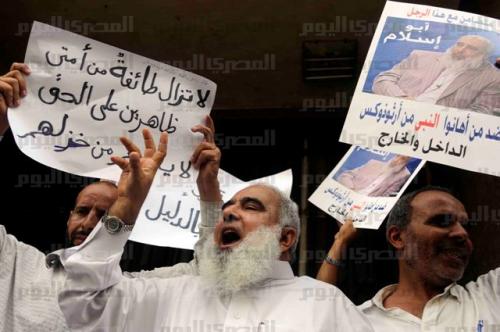 The Nasr City Misdemeanor Court has postponed the blasphemy trial of Sheikh Ahmed Mohamed Mahmoud Abdallah, aka Abu Islam; his son, Islam; and Al-Tahrir newspaper reporter Mohamed Yassin Gadallah to 21 October.
Abu Islam, owner of Al-Umma satellite channel, had been referred to a criminal court over accusations of tearing a copy of the Bible outside the US Embassy in Cairo last month during protests over an anti-Islam film produced in the US. He was also accused of insulting Christianity in an interview with Gadallah.
Coptic lawyer Naguib Gibrael told the ONA news agency that he will file a complaint at the public prosecutor's office accusing Abu Islam's supporters of assaulting him outside the courtroom.
State-run Al-Ahram said security cordoned off the court building following clashes between Abu Islam's supporters and opponents.
Edited translation from Al-Masry Al-Youm