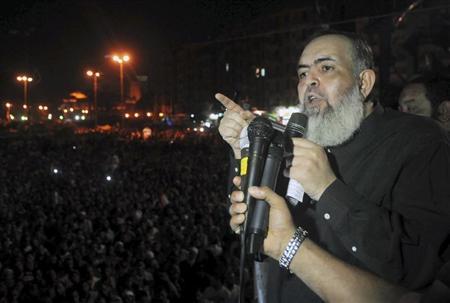 Giza Criminal Court sentenced former Salafi presidential hopeful Hazem Salah Abu Ismail to one year in prison over insulting police officers and former Interior Minister Ahmed Gamal Eddin.
The lawsuit papers mentioned that Abu Ismail attacked on December 30, 2012, the police service through a number of video clips on the Internet, calling the officers names punishable by the law and insulting Gamal Eddin, according to the indictment.
"I will say now what I did not say before. I told Ahmed Gamal Eddin in his office you are an accomplice with the director of Public Security Sector and the police all need to be whipped," the indictment quoted Abu Ismail in a video.
Abu Ismail appeared in another video while threatening and insulting the Interior Ministry and police forces.
The court received in a former session a report by a committee of experts from the Radio and Television Union, confirming that the voice in the videos belonged to Abu Ismail and that there have been no acoustic editing to the videos.
Abu Ismail was excluded from the 2012 presidential race after the Interior Ministry confirmed his mother was an American citizen, which violated the elections law.
Edited translation from Al-Masry Al-Youm