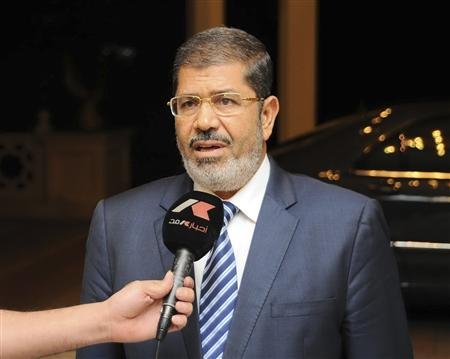 President Mohamed Morsy is studying whether to amend the Camp David Accords to ensure Egypt's full sovereignty and control over every inch of Sinai, said Mohamed Gadallah, legal adviser to the president.
Calls for amending the peace treaty with Israel, which also governs the security presence in the Sinai Peninsula, have been on the rise since last week's attack on a military checkpoint at the border left 16 Egyptian security officers dead.
Former presidential candidate Hamdeen Sabbahi called for the amendments Saturday. The Revolutionary Youth Union has filed a lawsuit before an administrative court demanding that the peace treaty between Egypt and Israel be amended.
Morsy has vowed several times since he took office to preserve international treaties that Egypt has signed.
Gadallah didn't give more details on the issue while speaking to Al-Masry Al-Youm Monday. He added that Morsy would soon order the release of another batch of military detainees.
On Thursday, the Personal Freedom Protection Committee, formed by Morsy to review cases of civilians held in military prisons since the 25 January revolution, completed its second report. It submitted suggestions for amnesty or reduction of sentences for those tried by military courts to the president.
Based on the committee's first report, on 19 July, Morsy ordered the release of 572 detainees, drawing criticism for including certain extremist Islamists in his pardon.
Regarding Morsy's latest decision, Gadallah added that there is no disagreement with the armed forces.
"Abolishing the Constitutional Declaration supplement was necessary to correct an exceptional situation," he said, referring to a document passed by the formerly ruling military council shortly before the presidential election that diminished the president's powers. "The military council, which reports to the president, should not have legislative powers."
He said the Supreme Council of the Armed Forces was not involved in the decision.
"The military council was not involved in the appointment of the new defense minister and chief of staff," he added. "This is the inherent right of the president as supreme commander of the armed forces."
Gadallah said the dissolved Parliament would not be reinstated, but that legislative power would move to the new parliament. The president would call for its election after the constitution is instated.
But Mahmoud al-Khodeiry, who had been chairman of the dissolved Parliament's legislative committee, said Parliament should be reinstated to fill the current legislative vacuum.
A June court order dissolved the lower house of Parliament, the People's Assembly, ruling that parts of the electoral law had been unconstitutional.
Edited translation from Al-Masry Al-Youm