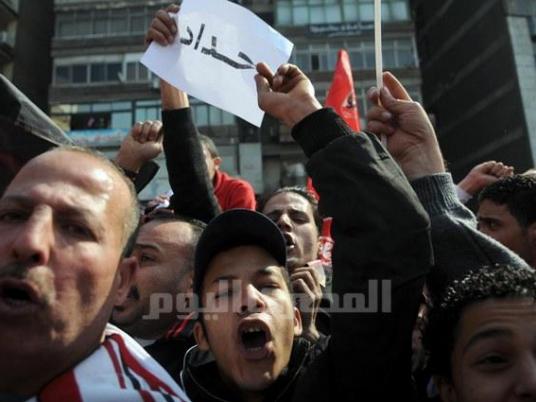 The military-appointed Advisory Council will suspend its meetings if the ruling Supreme Council of the Armed Forces rejects its recommendations to end the current crisis in the country, members said.
The council, formed by the military leaders after December clashes to advise on the formation of the country's new constitution, has set a series of measures to speed the political transition in the wake of the killing of 74 people during violence at a Port Said football match Wednesday and subsequent protests in Cairo in which eight have died as of Monday morning.
The measures, proposed on Saturday, include earlier presidential elections, a purging of the Ministry of Interior and the arrest of senior police officers affiliated with the former regime as well as members of the disbanded National Democratic Party.
Council members agreed to halt the council's meetings if their demands were rejected or ignored, and they will decide on the matter in Tuesday's meeting, in the case of no response from SCAF, members said.
Council member Osama Borhan said the memorandum submitted by the council on Saturday is the latest of three sent to the ruling generals. Previously, he said, the council submitted two others on the treatment of the revolution's martyrs and injured, as well as the formation of the constitution's founding assembly.
Council members Salah Fadl, Osama al-Ghazaly Harb, Sekeena Fouad and Borhan signed the request to halt the meetings, Borhan said.
After the Shura Council election ends, council member Mona Makram Ebeids said she expects SCAF to approve earlier presidential elections and begin the nomination process.
Translated from Al-Masry Al-Youm