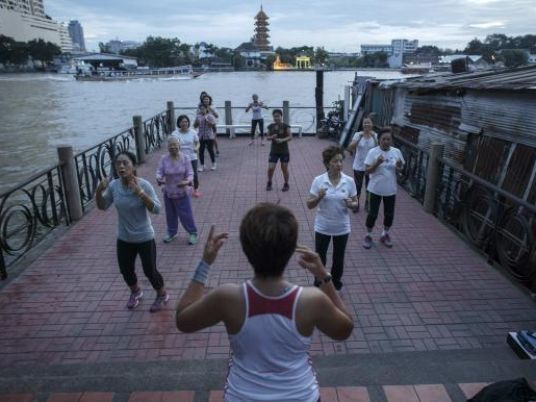 People with moderate to severe asthma who add aerobic exercise to their treatment regimen may have an easier time controlling common symptoms than people who rely on drugs alone, a small study suggests.
Patients randomly assigned to a three-month treadmill exercise regimen showed decreases in two aspects of the illness that make it difficult to breathe: inflammation and heightened sensitivity in the airway.
While it's not surprising that asthma patients may benefit from aerobic exercise, the findings offer new evidence that physical activity can help even in patients who are already controlling symptoms with medication, said lead author Dr. Celso Carvalho, a researcher at the University of Sao Paulo School of Medicine in Brazil.
"This information strongly suggests that aerobic exercise has an anti-inflammatory effect in asthma," Carvalho said by email. The findings point to a potential benefit of exercise for enhancing the effectiveness of treatment with drugs, he said.
Globally, an estimated 235 million people suffer from asthma, according to the World Health Organization.
The incurable chronic disease leads to sudden attacks of breathlessness and wheezing. During attacks, the lining of the bronchial tubes swells, narrowing the airways and restricting the flow of air in and out of the lungs.
Many people with asthma routinely or periodically take daily anti-inflammatory medications to reduce swelling and mucus production in the airways, which can help control or prevent symptoms.
In addition, asthma patients may use drugs known as bronchodilators, which come in long-acting forms to control symptoms and short-acting versions to help stop sudden attacks. These drugs relax the muscle bands that tighten around the airways, letting more air in and out of the lungs.
Carvalho and colleagues studied the impact of exercise on 43 asthma patients between 20 and 59 years old, whose symptoms had been well managed by drugs for at least 30 days and who had been monitored by their doctors for at least six months.
They excluded patients who had cardiovascular, musculoskeletal or other chronic lung diseases, as well as current or former smokers and people who already regularly got plenty of exercise.
Regardless of whether or not they were assigned to the exercise group, all patients received yoga breathing classes twice a week for 12 weeks. The exercisers also worked out on treadmills for 35 minutes twice a week.
By the end of the study, bronchial hyper-responsiveness, or extreme sensitivity that causes narrowing of the airways, decreased significantly in the exercise group but not in the other patients.
Exercise also appeared to curb levels of some proteins, known as cytokines, linked to inflammation.
One limitation of the study, in addition to its small size, is that the cytokines, which were measured in blood tests, may not necessarily reflect airway inflammation specifically, the authors acknowledge in the journal Thorax.
Another concern is that exercise may actually trigger an asthma attack, said Dr. Simon Bacon, an exercise science professor at Concordia University and director of the Rehabilitation Center at Sacred Heart Hospital of Montreal in Canada.
To minimize the risk, patients may need to use an inhaler before they start exercising, and also take care to cool down properly at the end of a workout, Bacon, who wasn't involved in the study, said by email.
"With the growing evidence that aerobic exercise seems to help, and certainly doesn't seem to harm, patients with asthma, I think doctors can start suggesting this as a good add-on to regular asthma treatments," Bacon said.
SOURCE: bit.ly/1LaN042 Thorax, online June 10, 2015.