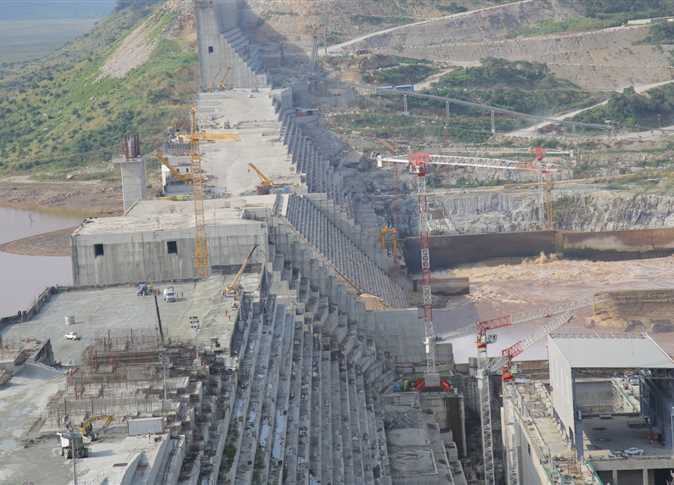 The African Union (AU) Commissioner for Political Affairs, Peace and Security on Saturday assured during a meeting with the Minister of Foreign Affairs of the Democratic Republic of the Congo that the union's role in the Grand Ethiopian Renaissance Dam (GERD) negotiations is purely neutral.
Negotiations resumed in Kinshasa to resolve the disagreements over the second filling of the dam, estimated at 13.5 billion cubic meters.
The current round seeks to determine the trajectory of negotiations, and discuss Sudan's proposal to seek assistance from a quadripartite international mediation that includes the European Union, the United Nations and the US to help all three parties reach a binding legal agreement. 
A debate emerged regarding the African Union's eligibility to resolve the current dilemma and around Sudan's request.
Egypt and Sudan asserted that the second filling should not commence without an agreement between all three countries and that an agreement must also be reached regarding a method of coordination.
According to sources concerned with Nile waters, Ethiopia aims to prolong the negotiations in order to reach the second and third filling of the Renaissance Dam and impose a fait accompli policy on Sudan and Egypt.
The three parties have held several rounds of negotiations over the past years, which ultimately failed to reach an agreement.
The construction of the dam, which began in 2011, is considered to be one of Egypt's most serious water issues.
Egypt, which relies considerably on freshwater from the Nile, has voiced fears that the GERD would negatively impact the country's water supply, and has insisted that measures be put in place to protect downstream countries in case of drought during the dam's filling process.
Ethiopia, on the other hand, has stressed the importance of the project to bolster its economy, where more than half of the population currently lives without access to electricity.