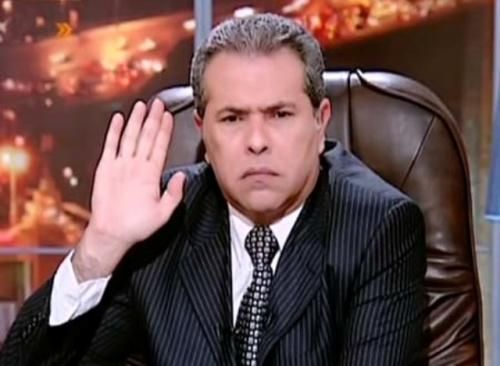 Mohamed Tawfiq Okasha, son of former popular TV host Tawfiq Okasha, said his father will make a video statement via YouTube on Wednesday regarding what has recently been raised about his potential return to television on the show Kalam Gedid (New Talk) on the Faraeen channel.
Okasha's son told Al-Masry Al-Youm that his father has been suffering from a health crisis during the past period due to a stroke.
"If anyone sees him now, they will not recognize him because he lost a lot of weight," he added.
Social media users circulated a post attributed to the Faraeen channel's social media page announcing the return of Okasha on the Kalam Gedid program on March 14 after an over two-year absence.
Okasha disappeared from the media arena in March 2016 after his parliament membership was withdrawn because of an unauthorized meeting he had held with the Israeli ambassador to Cairo.
The Faraeen channel, owned by Okasha, subsequently announced that it was suspending broadcasting all together.
Sources told Al-Masry Al-Youm after the channel's closure announcement that Faraeen was indebted to the Media Production City, and that was the reason for the shutdown.
Okadha was removed from parliament and stripped of his MP status in March 2016 after a controversial and unauthorized meeting with outgoing Israeli ambassador Haim Koren. It was later announced that Faraeen would halt operations prior to being sold.
In February that year, Okasha had invited Koren for a meal at his residence in Daqahlia, a move seen by many as a breach of a longtime popular and parliamentary boycott of Israel since the end of the 1973 war and the signing of the Egyptian-Israeli peace treaty in 1979.
Okasha said that he wanted to discuss various important issues with the Israeli diplomat, including the issue of Palestine and negotiations over Ethiopia's controversial Renaissance Dam project.
The incident provoked strong reactions from fellow MPs, media figures and members of Okasha's Daqahlia constituency.
Nasr City Misdemeanor Court then sentenced Okadha to one year in prison and fined him LE5,000 for forging his PhD degree.
Edited translation from Al-Masry Al-Youm