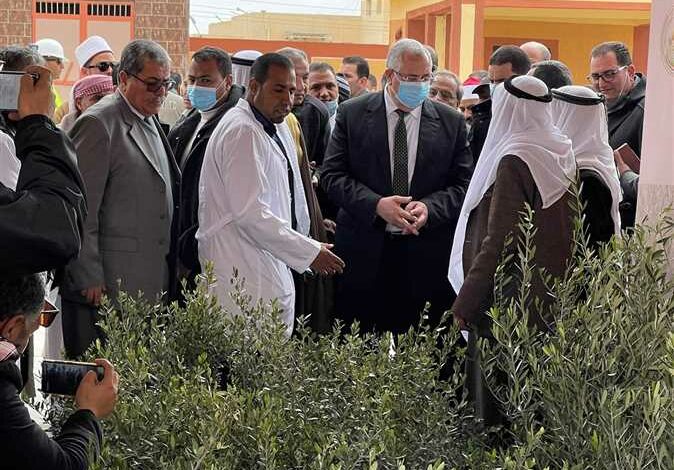 The Egyptian Minister of Agriculture and Land Reclamation al-Sayed al-Quseir announced Saturday that his government seeks to reclaim and cultivate more than half a million feddans in Sinai Peninsula as part of the state's comprehensive development plan for Sinai.
The political leadership has set its sights on fighting terrorism while at the same time pushing development, he said, thanking the state for its efforts made to support the people of Sinai.
The minister added that there is a plan to benefit from the waters of the Bahr al-Baqar Wastewater Treatment Plant, and al-Mahsama Water Treatment Plant.
Quseir also noted the establishment of a unit for treating waste in Sinai and converting it into organic fertilizers, and providing agricultural machinery and tractors to improve lands for farmers in Sinai.
And cooperation is in place with the Ministry of Irrigation and Water Resources to dig new wells, establish a repair unit for damaged wells, set up an olive oil mill and market agricultural crops.
Quseir visited North Sinai to implement orders from Egyptian President Abdel Fattah al-Sisi to support development in Sinai, during which he was received by the governor Abdel Fadil Shousha.
The minister held a public conference in the city of Hassana, central Sinai.
He announced the support of people in the villages of Sheikh Zuweid city to plant 20,000 olive seedlings through the Desert Research Center, in addition to supporting developmental gatherings in North and South Sinai.
The research program for integrating the people of Sinai into sustainable agricultural development aims to expand the scope of community benefit from the services of the Agriculture Ministry, he explained, as well as the Desert Research Center in North Sinai in general – especially in the central Sinai region in the Hassana city.