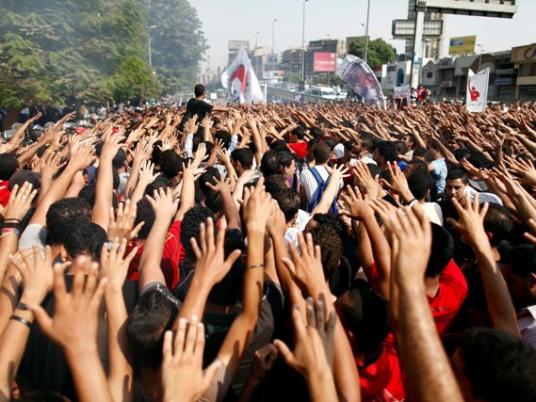 Ahmed Sheeha, business agent for Ahly football player Ahmed Abdel Zaher, said his client is preparing an apology for flashing a salute affiliated with the Muslim Brotherhood after scoring a second goal against the Orlando Pirates this weekend.
Abdel Zaher raised the four-fingered salute, which refers to a sit-in staged by supporters of one-time Islamist President Mohamed Morsy at Rabaa al-Adaweya this summer, after scoring against the South African side in the Champions League final.
The statement will be posted through media channels, Sheeha announced.
In a phone call with privately-owned TV channel Dream on Monday, Sheeha said: "I talked to Abdel Zaher a few minutes ago and he told me he is preparing an official statement to apologize for making the Rabaa al-Adaweya sign after scoring that goal."
"Abdel Zaher will apologize to Ahly and football fans in general," Sheeha went on. "He will stress that he didn't mean to offend his club, fans or any of the state's figures. He will clarify that what he meant, by flashing the salute, was that one of his relatives passed away during the dispersal of the Rabaa al-Adaweya sit-in."
"[Abdel Zaher] will confirm that he knows he was mistaken and that he didn't mean to cause offense to any Egyptian."
According to Sheeha, the player will express his willingness to undergo any sanctions by Ahly or the Confederation of African Football. He explained that the Egyptian Football Association (EFA) cannot suspend or investigate him, since the African Champions League is not organized by it.
"Abdel Zaher is one of the kindest Egyptian football players. His coaches can attest to that. He knows that he ruined the Egyptians' happiness for a few moments by what he did. However, he hopes that the statement could make up for his mistake. He told me he is ready for any financial or disciplinary penalty," Sheeha added.
After the match, Abdel Zaher said he did not intend to create any political controversy by making the sign and that he only meant to commemorate civilian and police victims.
The player was suspended by Ahly until questioning over the incident is completed. The club will then decide about sanctions against him during an urgent meeting on Tuesday.
Both Ahly and the EFA said they will question Abdel Zaher, according to instructions by Sports Minister Taher Abu Zeid, who earlier ordered the suspension of Kung Fu athlete Mohamed Youssef for making the same gesture following a sporting victory.
Edited translation from Al-Masry Al-Youm