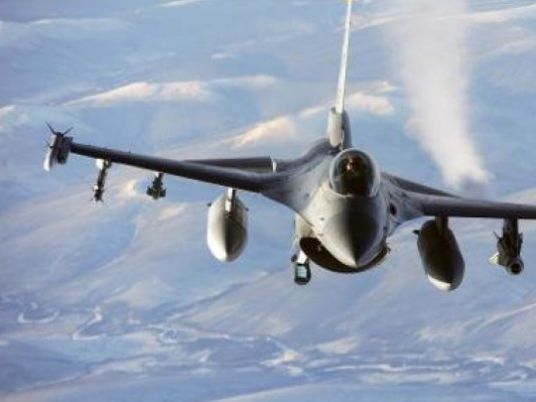 The airspace over Cairo was closed for 15 minutes, from 11 a.m. to 11:15 a.m. on Monday morning, as a fleet of air force fighter jets performed a show to mark the Liberation of Sinai.
The air navigation center at Cairo International Airport soon announced the airfield was open again, later closing it for a second quarter-hour display at 4 p.m.
The air force performed the display over Tahrir Square and downtown Cairo.
Below them in Tahrir Square, Youm 7 reported, citizens gathered to celebrate the 34th Liberation of Sinai holiday.
The areas surrounding Abdeen Palace were filled from early morning with people carrying pictures of the president, along with the Egyptian and Saudi flags, and chanting their support for the army, police and the president.
In response to the day's planned protests, they chanted, "Sisi is their [the protesters] uncle, he's wrapped them round his little finger," and, "Bring down the betrayers and the Brotherhood!"
Others revised a familiar chant, calling, "The army, the police and the people, hand-in-hand against terrorism".
In Mustafa Mahmoud Square, some people were handing out water and juice to fellow celebrators.
Meanwhile, reported Al-Masry Al-Youm, a message was published on President Sisi's facebook page, saying, "On this precious anniversary of Sinai's liberation, I would like to extend my congratulations to the people of Egypt, a day of testament to the great and ancient land of Egypt.