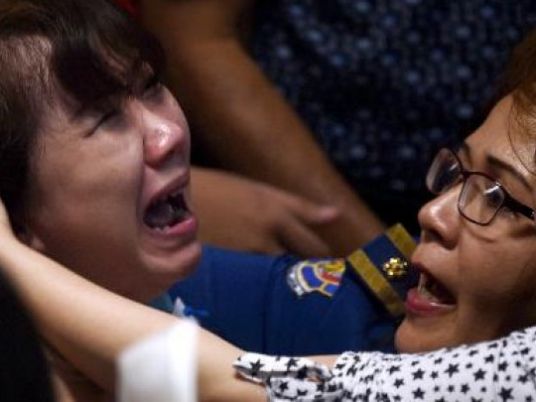 Relatives of passengers on AirAsia flight QZ8501 began crying hysterically and fainting Tuesday as Indonesian television footage showed a body floating in the sea during aerial searches for the plane.
At least two distraught family members were carried out on stretchers from the room where they had been waiting for news in Surabaya, Indonesia's second largest city — the take-off point for the aircraft that disappeared during a storm on Sunday.
"My heart will be totally crushed if it's true. I will lose a son," 60-year-old Dwijanto, who like many Indonesians goes by one name, told AFP.
More than 48 hours after the Airbus A320-200 lost contact carrying 162 people to Singapore, aerial searchers spotted items in the Java Sea which officials said were from the plane. Soon after they began recovering dozens of bodies.
As the first body was shown floating in the water on rolling television news, relatives burst into tears and hugged one another amid cries for more ambulances, said an AFP reporter at the scene.
One man covered his face and had to be held up by two other men before he fainted and was taken out by stretcher. Another woman was screaming and crying as she was supported by the mayor of Surabaya.
A female AirAsia officer shouted at the television media for showing footage of a floating body, while about 200 journalists were barred from the room holding the families, the windows of which were boarded up.
"Is it possible for you not to show a picture of the dead? Please do not show a picture of a dead body," said the officer. "That's crazy."
Munif, a 50-year-old whose younger brother Siti Rahmah was on the plane, said he had been trying hard to keep the other families calm.
"But the atmosphere was very different after the footage of a dead body was shown. Families became hysterical," he said.
"Because everyone was wailing and yelling, I couldn't deal with it so I decided to leave the room."
In Malaysia, families of those on the MH370 flight that went missing without a trace in March hoped those lost in the latest tragedy could at least have a proper burial.
"The families can now have a closure and have a peace of mind which I am dying for," said Selamat Omar, whose 29-year-old son was on the Malaysia Airlines plane.