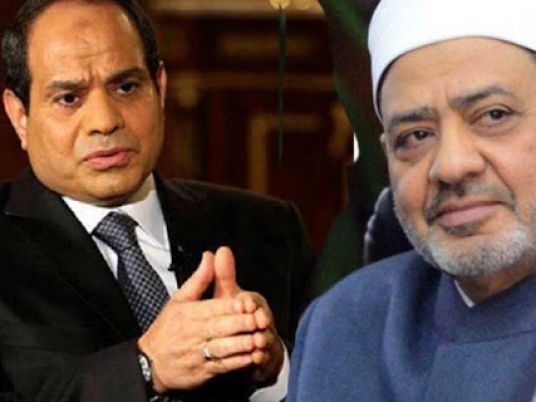 His attendance at several events this week indicated that Al-Azhar Grand Sheikh Ahmed al-Tayyeb's popularity hasn't waned despite disagreements with the President over religious reform.
Tayyeb received warm prolonged applause when he attended a celebration for Labor Day held on Sunday evening, attended by President Abdel Fattah al-Sisi.
Gebali al-Maraghy, chairman of the Egyptian Trade Union Federation (ETUF), offered thanks to both the church and al-Azhar for their unity against corrupt ideologies and evil powers.
Tayyeb urged labourers and other works to continue their hard work for the sake of the country and achieving development in all fields.
Earlier, at the al-Azhar peace conference on Friday in which Pope Francis I took part, loud applause broke out as Tayyeb entered the conference hall. In a speech, the Sheikh said that religions are innocent from terrorism.
On Saturday, Parliament's general secretariat issued a statement to refute news reports that some bills were being reviewed related to the age of al-Azhar's grand sheikh and committees.
Previous statements from Sisi to Tayyeb in January have publically revealed disagreements and tension between the state and al-Azhar, especially with regard to the so-called "renewal of religious discourse".
Al-Watan newspaper previously quoted Sisi as telling Tayyeb: "You wear me out", during a celebration held on National Police Day. He was refering to Tayyeb's resistence to passing a law that would restrict verbal divorce among Muslims.
This statement by Sisi highlighted the ongoing rift between the presidency and the al-Azhar institution, whose response to the president's calls for religious reform is seen as lukewarm.
Edited translation from Al-Masry Al-Youm