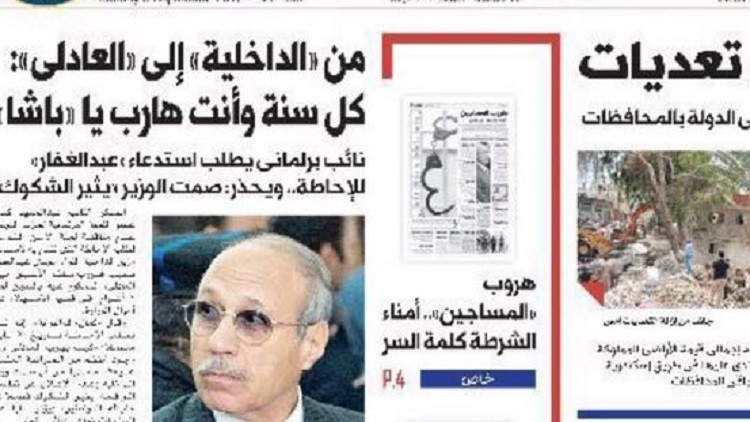 Egyptian authorities ordered the confiscation of Al-Bawaba newspaper on Sunday for reporting on the disappearance of former Interior Minister Habib al-Adly, who has not been seen since he was convicted of corruption in April.
The publication said in a statement following the seizure, that the state-owned Al-Ahram printing press refused to print Sunday's edition of the paper in compliance with a request from, what they referred to as, "certain entities," demanding the removal of a front-page report on the delay in uncovering Adly's location. The case of the former minister's getaway has prohibited the execution of a court sentence issued earlier this year.
Al-Bawaba wrote that it will preserve its right to pursue legal measures against the decision to suspend Sunday's edition, calling it "irrational conduct."
The Mubarak-era interior minister was sentenced to seven years in prison in April for squandering public funds during his time in office. The case is still open for appeal, but Adly is legally obligated to turn himself in before an appeal is filed, or else it will be rejected and the ruling will be final.
Despite being under house arrest throughout trial proceedings, Adly was not present when the verdict was issued and police have been unable to ascertain his whereabouts ever since.
The confiscation of newspapers in Egypt is unconstitutional according to Article 71 of the Constitution, which stipulates that "times of war or public mobilization" are the circumstances under which temporary censorship is allowed. Nonetheless, Article 3 of the emergency law gives the president the right to seize, confiscate or close publications or print houses "if it is deemed necessary".
Syndicate board member Aboul Seoud Mohamed was cited by Al-Bawaba as saying the confiscation of newspapers is a "continuation of the undermining of journalism and elimination of freedom of expression."