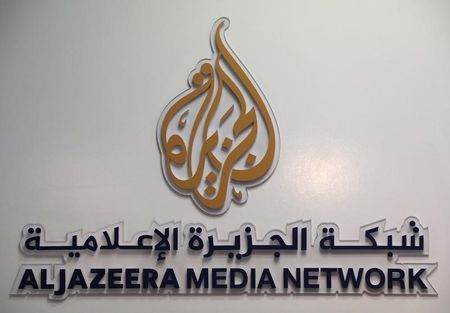 As Al Jazeera journalist Mahmoud Hussein marks one year of detention without charge in an Egyptian prison, the pan-Arab news network Al Jazeera released a statement revealing the conditions of his detention and condemning his repeated ongoing detention renewals.
"Mahmoud was detained in December last year by Egyptian authorities upon his arrival in Cairo while on annual vacation visiting his family," Al Jazeera said in the statement.
"Mahmoud's physical health has deteriorated having first been held in solitary confinement from December 23 until March 20, 2017."
The network highlighted how Hussein has not been formally charged, saying that his detention has been renewed 10 times, the most recent of which occurred on December 14.
Hussein is accused of "incitement against state institutions and broadcasting false news with the aim of spreading chaos," allegations that he, his lawyers, and Al Jazeera have consistently denied.
Al Jazeera strongly condemned the actions of Egyptian authorities, which it says are a "clear and blatant violation of his basic human rights which are supposedly guaranteed by Egyptian laws and international binding treaties."
The network also highlighted the conditions of his treatment in detention.
"On June 13, while in prison, he sustained a fracture in his left elbow. To date, he has not been allowed access to the required medical treatment by the Egyptian authorities, even though Al Jazeera would cover all costs."
This year, Egyptian authorities banned more than 400 website, including Al Jazeera, accusing the news network of supporting terrorism and extremism.
The Egypt-Al Jazeera friction dates back several years. In 2011, Egyptian authorities ordered Al Jazeera's offices in Cairo to be shut down following the network's coverage of massive protests against the government.
In the same year, and again in 2013, Egyptian authorities raided the Cairo offices of the Qatari-owned news network.
Cairo accuses Qatar of supporting the Muslim Brotherhood, which was removed from government in 2013 by the army following widespread opposition to Islamist Mohammed Morsi's rule. The Muslim Brotherhood was declared a terrorist organization by Egyptian authorities in December 2013.
The international non-governmental organization, Reporters Without Borders, which monitors press freedom round the world, ranks Egypt 161st out of 180 countries in its press freedom index.
Meanwhile, the US-based Committee to Protect Journalists dubs Egypt as "one of the world's biggest prisons for journalists," ranking it third in a December report on the countries with most journalists in prison.