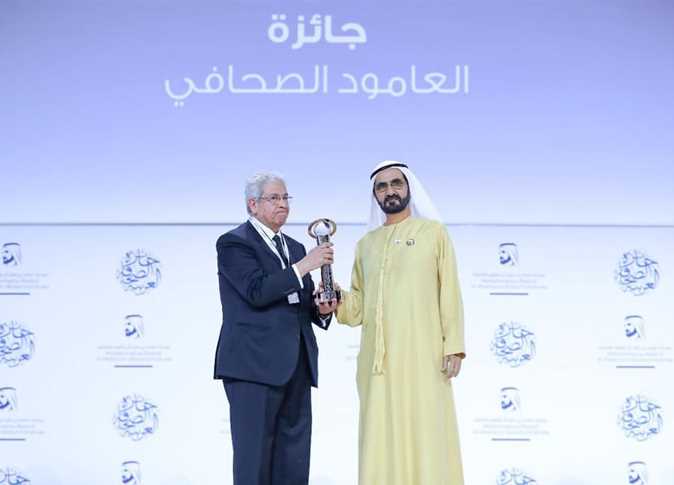 Sheikh Mohammed Bin Rashid al-Maktoum, Vice President and Prime Minister of the UAE has delivered the Best Column Award of the Arab Journalism Award to Chairman of the Board of Directors (COB) of Al-Masry Al-Youm, Abdel Moneim Said.
The winners of the 18th edition of the Arab Journalism Award were honored by Bin Rashid at a ceremony in Dubai on Thursday, at the conclusion of the Arab Media Forum (AMF) 2019.
Speaking to Al-Masry Al-Youm, Said explained that the existence of the Dubai Press Club encourages journalists to acknowledge those who appreciate the the press and its message. The profession is at a difficult juncture in the world, he said, adding that there is tension between the press and politics and a hostile attitude towards the media coming from society.
Said added that the Dubai Press Club and its activities bring together professionals to deal with a new reality the press has never faced, such as how social media technology has allowed any citizen to become a "journalist".
He added that the club's interest in journalism prompts the reader to review their convictions, and the Arab Journalism Award represents a victory for the the profession.
According to Said, these challenges are not limited to journalism alone, but extend to satellite channels and other media outlets, though he stressed that the power of journalism increases day by day.
The Arab Journalism Award is an annual award by the Dubai Press Club at the initiative of Bin Rashid to encourage Arab journalists to innovate. The first course was launched in 2001 and is run by an independent council of Arab media personalities.
Edited translation from Al-Masry Al-Youm