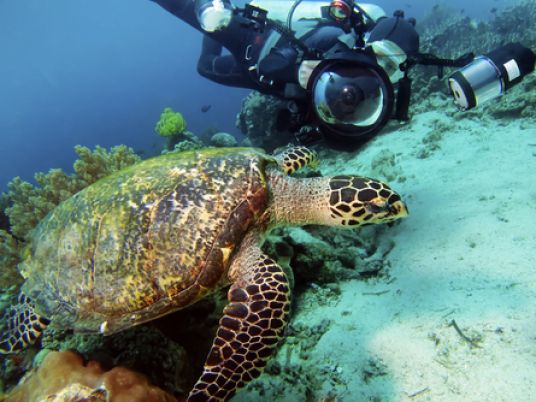 The Red Sea city of al-Quseir will host its first competition and exhibition for underwater photography from 4 to 6 October.
Titled "Egypt in different shapes and colors," the event is considered the biggest artistic festival of its kind in the Middle East.
Wael Azab, coordinator of the festival, said the idea is to revive tourism with a new kind of activity that will take place 10 meters under the water and added that the clear waters of al-Quseir provide a perfect view of the seabed.
Hossam Diab, the head of the photojournalists sector at the Journalists Syndicate, said more than 100 photographers will participate in the festival and the jury will pick those photos that qualify for the competition. After showcasing the photos, the winners will be chosen.
The photos will be displayed underwater, said Diab, as the photos will be printed on waterproof materials and further protected with plastic insulators. Then a group of professional divers will fix the photos in the seabed. Cameras, also fitted in the seabed, will provide footage to visitors with the beautiful coral reefs dotting the scenes.
The festival is sponsored by Al-Masry Al-Youm, the Ministries of Youth and Tourism, the Wafaa al-Nil Association, the Egyptian Cars Club and the Red Sea Governorate.
Edited translation from Al-Masry Al-Youm