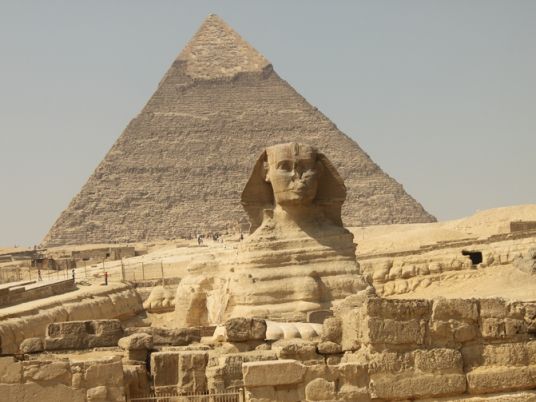 A security source from inside the Interior Ministry has dismissed media reports that terrorist group Islamic State (IS) intends to blow up the Giza pyramids, saying that the achaeological site is highly secure and constantly monitored.
On Wednesday, British newspaper The Daily Mail published a report claiming that the terrorist organization plans to obliterate the ancient Egyptian monuments as part of a larger program of razing "archaeological sites built by infidels".
As part of the report, The Daily Mail released a video of IS members blowing up the 2,500 year-old Nabu temple in Iraq. An IS member can be seen in the video vowing to blow up the temple, located in the Assyrian city of Nimrud, before a large explosion reduces the temple to rubble.
The last scene of the video, according to The Daily Mail, shows an image of the Giza pyramids and an IS fighter pledging to continue the group's program of obliteration.
Quoting the website "Vocativ", a media website that searches the deep web for news, The Daily Mail reported that the date of Nabu temple's destruction is yet unknown.
In response to the alleged threat on the pyramids, the Interior Ministry source ruled out the possibility of attacks on Egyptian archaeological sites, independent news outlet Youm7 said.
In remarks to Youm7, the source stated that Egypt's tourist destinations are highly secured and are patrolled throughout the day, and that the Giza pyramids alone are watched by around 197 surveillance cameras.
The source stressed that security personnel have responded adeptly to numerous threats over the years, a significant example of which being the foiling of an attempted attack on Al-Karnak temple in Luxor a few months ago.