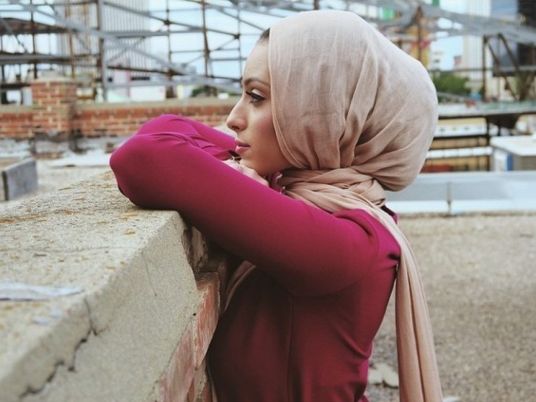 Next month's issue of Playboy Magazine is set to feature a historic spread — indeed the first in its history — featuring a Muslim hijabi woman, Libyan-American journalist Nour Tagouri.
The spread will be entitled "Renegades" and will feature Tagouri dressed in jeans, a leather jacket and Converse sneakers, along with several other women.
Tagouri is a 22-year-old graduate from the University of Maryland who has worked part-time for CBS Radio and Prince George's Community Television. She is currently at Newsy, an American video news network that produces short-form video news pieces.
She told the Washington Post last year that one of her main career goals is to become the first hijabi woman on commercial American television.

Noor Tagouri puckers for the camera on Youtube

Tagouri has also been something of a social media celebrity since December 2012 when she posted a photograph of herself sitting at the anchor desk of ABC News 7. Soon after the photo was posted, it went viral online, and she now boasts over 150,000 followers on Instagram and around 28,000 on Twitter.
The pairing of Playboy and a hijabi woman is an unlikely one, to say the least, and heavy with the promise of controversy. Tagouri told Playboy this month that she feels that being veiled makes her a better reporter, because interview subjects trust her more, assuming that as a Muslim woman she has some understanding of how the media can misrepresent issues.
"To be honest, I think being a hijabi Muslim woman, helped me gain that trust. I know what it's like to have the narrative of our community be skewed and exploited in the media. I was like, 'Hey, I know what it's like to be misrepresented in the media. I won't do that to you. I want to tell your story because it's important and deserves justice.'"

Posing for a photograph in the ABC news anchor's chair
Tagouri has and continues to receive a great deal of hate and criticism online, but she says she ignores it, describing it as just negative energy that she doesn't waste her time with. She is of the opinion that as long as she is surrounded by a group of people who love and support her, she remains grounded and largely unaffected by adverse attention.
"Whether it's at work or at home, the people who have my best interest at heart voice their concerns and their critiques, and I work on them. Besides that, I just do the best I can to not worry about people who get upset because they don't like something that I wear or say," Tagouri said to News.com.au

Reporting from a Veteran's Day event in Washington DC
Tagouri lives with her Libyan-American parents in their palatial home in Maryland, where her father works as a hospital pathologist. The Washington Post described Tagouri as talking in "excited bursts" peppered with giggles, and she consciously avoids the standard "reporter voice" when presenting to camera, preferring to connect with her audience using a more conversational tone.
With regard to her wanting to wear the hijab on American television, she explained, "It empowers me. It helps me do what I want to do. I know first-hand that once people are re-empowered, they realise their own story is powerful and they begin to share. It's incredibly rewarding and can even help enlighten or save others."