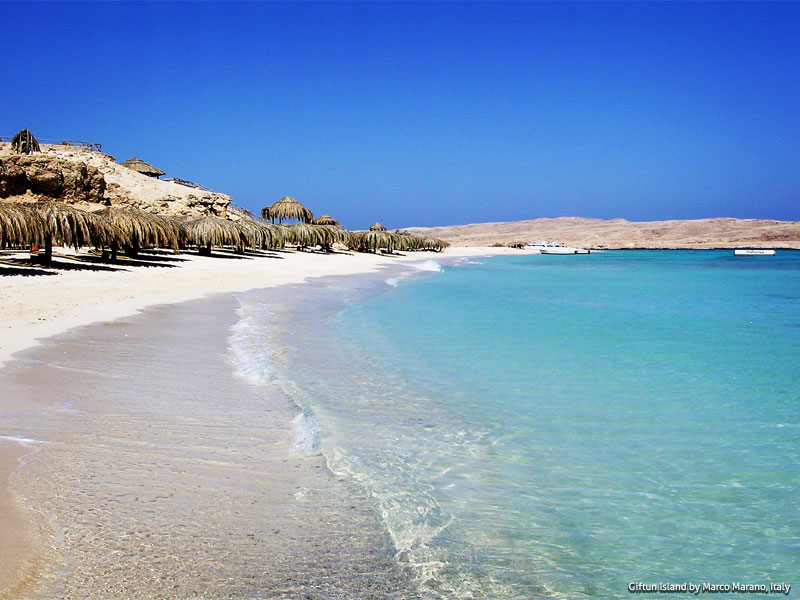 After reaching a low point last year, the number of German visitors to Egypt are finally on the rise again. While some are seeking to escape the long German winter, others are attracted by the highly affordable service and warm hospitality – and sometimes, even by the free babysitters.
Finally there is some good news for Egypt's suffering tourism industry: Germans are coming back to the country. According to Egypt's Tourism Promotion Authority, 800,000 German tourists visited the country between January and September. In November, the number reached one million, thus by far exceeding the number for the whole of 2016. That year, only 654,000 Germans decided to spend their vacations in Egypt. For the local tourist sector, this is important news, since Germans represent around a third of all foreign tourists to the country.
"The positive trend in Egypt is clearly visible", says Anja Braun, spokesperson of German travel agency TUI. "We see a high rise in demand both for this winter and the coming summer." Popular destinations for TUI customers are Hurghada and Marsa Alam, as well as Sharm el-Sheikh and Luxor. Braun has identified several factors underlying this trend. "Egypt has strongly invested in security and is among the top performers in terms of customer satisfaction among all medium-haul destinations", she says. "The quality is right, the price-performance ration is very attractive. Our guests return highly satisfied from Egypt."
German travel provider 'Berge & Meer' has seen the same positive development. "Since the beginning of the year, there has been a significant rise in demand for Egypt", says company representative Nina Meyer. "Both for summer 2017 and the winter season 2017/2018 we are currently observing good growth rates." Most popular among "Berge & Meer" customers are destinations at the Red Sea, in particular Hurghada. But also the demand for city trips, especially to Cairo, has been rising lately, says Meyer.
The German Travel Association (Deutscher ReiseVerband), who represents the interests of the German tourism industry, confirms the trend. "Egypt has been among the winners" of the last tourist season, says Kerstin Heinen, a DRV spokesperson.
Another often-cited reason for the recent uptick in German tourism to Egypt is the fact that Turkey – a traditionally popular destinations for German travelers seeking sun, historical sites, mediterranean serenity and affordable quality services – has lost much of its former appeal due to recent political turmoil and diplomatic tensions with Germany. The devaluation of the Egyptian pound serves as an additional pull-factor, making goods and services in Egypt highly affordable for German visitors.
Tourists from Germany, as well as from other countries, were deterred by the turmoil of 2011, as well as more recent reports of terrorist incidents, such as a deadly attack on two German tourists in July 2017. While in 2010, 1.3 million German tourists arrived in Egypt, the number sank to 960.000 in 2011 and varied between 1.1. millions and 654.000 in the following years. While it is still unclear whether the November 24 atrocity in Sinai that killed no less than 311 people, will affect tourism in the months to come, for the time being the spell seems to be broken.
Among those who came back positively surprised is Valerie, 37, who recently visited Egypt for the first time. Valerie, who comes from the Southwest German Swabian region and works in the communications sector, was sent to Cairo by her employer for a business event and decided to extend her stay for a few days to discover the city by herself. "I had heard many stories of men approaching and harassing Western women in the streets, and about intrusive tourist guides", she says. "Therefore, I wasn't sure in the beginning if going to Cairo by myself is really such a good idea. But it turned out just fine: men largely left me in peace, and in those areas that I visited, I felt I could walk around freely by myself." While she found Cairo "dusty, crowded, loud and exhausting," she concludes that "it is definitely worth a trip. The old culture that you can see here is fascinating, you see things that you won't find anywhere else. I hope to come back to Egypt soon to visit some other places and cities, such as Alexandria."
In addition to its historical sites and its sunny weather – something Germany is notoriously lacking – many German visitors profess to be charmed by the hospitality of the locals which extends to very young travelers, as Aline B., 33, from the North German city of Hamburg, has found out. In the beginning of this year, she travelled to Dahab with her baby daughter, who was only four months old at that point. Aline, who was then on maternity leave, decided to escape the cold, dark North German winter and to use the opportunity to work on her Arabic. "I have been studying Arabic for a while, so it makes sense to spend as much time as possible in Arab-speaking environments", she says. She already knew Cairo and the Sinai from previous visits and had made friends there. When she returned earlier this year, she rented a small apartment in Dahab for two months und took Arabic classes every other day. "The only thing I was a bit worried about beforehand was what I would do in case my daughter gets sick," she recalls. But that turned out to be no problem: The only time she needed a doctor for her baby, local friends helped her to find one she felt comfortable with.
Other things turned out to be even easier in Egypt than in Germany. For example, she never had to worry about getting a babysitter when leaving the house for Arabic lessons. "The Egyptians are so child-friendly," she says, "I just took my daughter with me to class. Most of the time, my teacher just held her on her lap."
And finally, there are those who – after visiting Egypt as a tourist – grew such a liking to the place that they even decide to relocate permanently. Stefanie Wedy, 29, who works as a school teacher in the West German city of Essen, has travelled to Egypt several times, most recently in 2016 to visit a friend studying in Cairo. "The locals welcomed me very openly, and I made lots of friends during my stay," she recalls. When she decided to apply for teaching positions in German schools abroad, Cairo was her first choice. "It is such a lively city with much going on and many cultural offers," she says. Her application was successful: in January 2018, she will move to Cairo for 1.5 years to teach at a local German school. She is looking forward to her new life, professing that security concerns are not an issue for her. "Unfortunately, terror attacks can happen everywhere these days," she says. "North Sinai is certainly a different issue. But in Cairo I feel quite safe. Some minor adjustments aside, I expect to lead my life there much in the same way as I do in Germany."