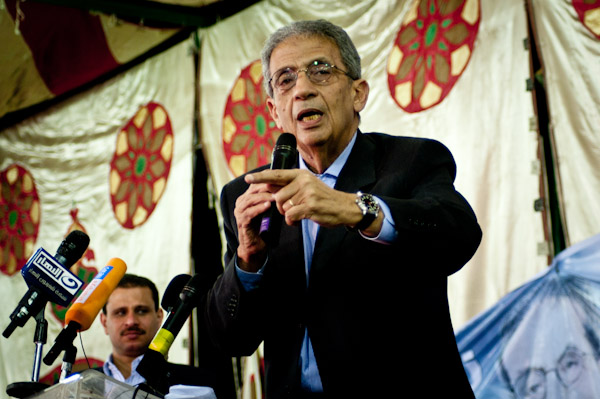 Former presidential candidate and veteran diplomat Amr Moussa said Sunday that he is not planning to run in the upcoming presidential elections scheduled for March 2018.
"I will not run for president and this is an irreversible decision, and I am with the stability that Egypt is going through," the former Arab League chief said during a symposium held in the liberal al-Wafd party headquarters.
"We must follow the constitution adopted by the people in 2014, especially after the rational decision taken by  President Abdel Fattah al-Sisi not to amend the constitution," he said.
Sisi said earlier this month he will not seek to change the constitutional limit of two four-year presidential terms, thus ruling out a third presidential term for himself. Sisi made the pledge in an interview with US television network CNBC aired on November 6.
Moussa headed the Constitutional Committee in 2013, which drafted Egypt's current constitution. The previous constitution, drafted under the rule of the ousted president Mohamed Morsi in 2012, was suspended by the then Defense Minister Sisi in July 2013.
"Drafting the current constitution was a very difficult period, and I will not forget this period, we were working 12 hours a day and the debate was difficult within the Committee of 50 and this in order to reach what achieves the public interest," Moussa said.
The former top Egyptian diplomat ran in the 2012 presidential elections and came fifth in the race with only 10 percent of the votes.
Until now, few well known figures have announced their intentions to run for the presidential post. However, rights lawyer Khaled Ali and former MP Mohamed Anwar al-Sadat have both said they will compete in the elections.
Edited translation from al-Masry al-Youm