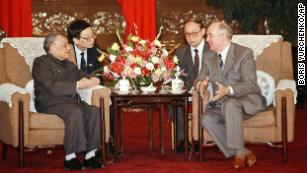 Tributes have poured in from around the world for Mikhail Gorbachev, the last leader of the former Soviet Union who died on Tuesday age 91, with many global leaders hailing his role promoting peace and advancing freedoms.
But in China, Gorbachev's legacy is seen in a different light, as it raises the specter of a historical event that has long been cited as a cautionary tale for the ruling Communist Party: the fall of the Soviet Union.
Gorbachev, who presided over the Soviet Union from 1985 until its collapse at the end of 1991, is widely credited with helping to end the Cold War and introducing key political and economic reforms to the USSR.
For an entire generation of Chinese leaders, however, Gorbachev has come to represent the perils of embracing democratic reforms, with officials long suggesting Communist-ruled China could face a similar fate to former ideological cousin the USSR if internal politics are left unchecked.
Beijing's official response to Gorbachev's death has been brief. A spokesman for China's Foreign Ministry, when asked for comment in a briefing Wednesday, said Gorbachev "had made positive contributions to the normalization of relations between China and the Soviet Union."
"We express our condolences to his family on his death caused by illness," the spokesman said.
As news of the former leader's death trended on Chinese social media platform Weibo on Wednesday morning, many users expressed their feelings of witnessing history and the end of an era, but some took a harder line.
"The Soviet Union was destroyed by him and the generations after him," wrote one user, who also asked if Gorbachev would be "ashamed" to meet Communist thinkers Karl Marx and Vladimir Lenin after death. Others pointed sarcastically to how Gorbachev was loved by the United States and the West.