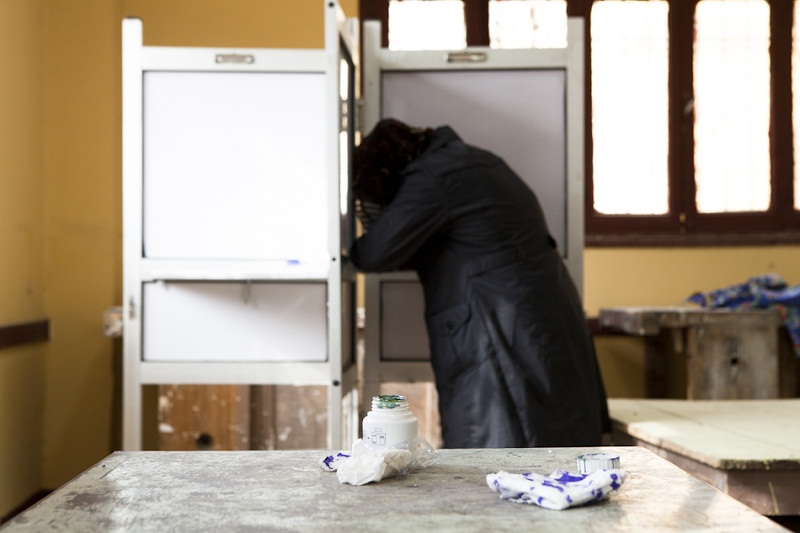 Analysts are predicted a voter turnout ranging between 30 and 40 percent in the second phase of the constitutional referendum on Saturday, despite efforts to rally the vote by supporters and opponents of the constitution.
There was only 32 percent turnout in the first phase of voting, which was unexpected in light of long lines before polling stations.
Opposition forces have cited low turnout as evidence of a lack of national consensus on the draft constitution, saying that the document would have little legitimacy if passed with the minimum 50 plus one majority.
Voting takes place amid a bitter rift between Islamist forces pushing for a "yes" vote on the constitution, and opposition forces that say the document limits freedoms and rights.
"Voting blocs at the second round's governorates, in light of Islamist domination, target increasing the 'yes' vote, so the constitution wouldn't be challenged," said Tarek Fahmy, a political science professor at the American University in Cairo, as quoted in the Turkish Anadolu news agency.
Some argued that the poor logistics and a shortage of judges, resulting in long lines at the polling stations, would discourage voters from participating.
"In the best case scenario, participation at the second round will be the same of the first. It's not expected to exceed 40 percent," said Hussein Abu Taleb of the Al-Ahram Center for Political and Strategic Studies said.
Other experts, however, were optimistic about approaching participation levels close to the 41 percent turnout in the referendum on the March 2011 Constitutional Declaration, which was the highest percentage of voter participation in Egypt's history.
Responding to security concerns surrounding tomorrow's vote, Interior Ministry spokesperson Osama Ismail said the police would carry out their duty according to the law and would secure the referendum in the second phase.
Ministry leaders, officers and soldiers securing the electoral process have been instructed to confront any acts that may hinder vote or affect voters, he added.
"The role of the Ministry [of Interior] is to secure the committees and headquarters from the outside in coordination with the Armed Forces," he said.
Ismail called on voters to keep the process peaceful.
The second round of voting is set to take place on Saturday 22 December in 17 governorates, including Giza, Qalyubiya, Monufiya, Beheira, Kafr al-Sheikh, Damietta, Port Said, Ismailia, Suez, Marsa Matrouh, Red Sea, New Valley, Beni Suef, Fayoum, Minya, Luxor and Qena.
Edited translation from Al-Masry Al-Youm