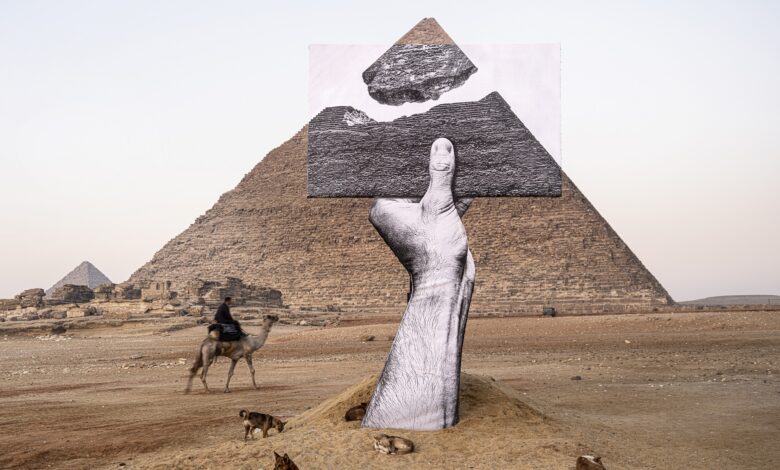 Hollywood star Angelina Jolie shared an image of a sculpture set at the Pyramids of Giza on Instagram on Friday.
In the photo that Jolie shared, a large hand emerges from the desert and holds a picture in front of the pyramid of Khafre.
View this post on Instagram
"Love these that my friend @jr just sent from Egypt," she wrote with the photo.
French plastic artist JR is in Egypt during his participation in the international exhibition entitled Forever is Now, which is being held at the Giza Pyramids area from October 21 to November 7.
Through his official account on Instagram JR explains that the artwork, entitled Greetings from Giza, is made of a metal structures.
It showcases a postcard in front of the pyramid of Khafre, which dates back to 2570 BC, and is placed at specific angles, creating an optical illusion depending on the viewer's angle.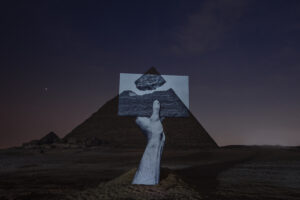 JR added in a comment that he has hidden a total of 743 hieroglyphs throughout his artwork.
For the first time in 4,500 years, an international exhibition is held at the Pyramids of Giza featuring various works by contemporary artists from around the world, according to the organization Art de Egypt, which is an Egyptian platform on art and heritage.
The exhibition, which opened officially on Saturday evening, displays 10 artworks by famous plastic artists in different countries of the world from different nationalities, including Saudi Arabia, United States, France, the United Kingdom, Spain, Russia, and others, according to a statement by the Egyptian Ministry of Tourism and Antiquities.
The exhibition hosts ten international artists, namely Russian artist Alexander Ponomarev, American artist Gisela Colon, Brazilian Joao Trevisan and French artist JR, as well as Italian artist Lorenzo Quinn, Egyptian artist Moataz Nasr , Egyptian/American Shereen Gerges, British duo SHUSTER + MOSELEY, British artist Stephen Cox, and the Saudi Prince Sultan bin Fahd.
"Forever Is Now" is an exhibition of contemporary art focused around international contemporary perspectives of ancient Egyptian civilization.
It explores time as a continuum that divides and connects civilizations. Through blending rich cultural history and contemporary artwork it aims to trace the continuity of ideas from the mythical past to the vibrant present, and to inspire the future of humanity.