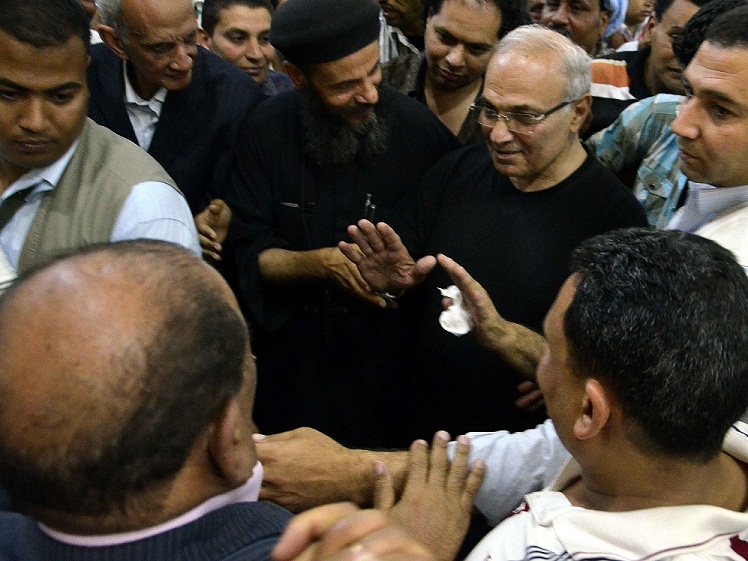 The Illicit Gains Authority called on the Cairo Appeals Court to urgently review the authority's decision to freeze the assets of Ahmed Shafiq, Hosni Mubarak's last prime minister and a former presidential candidate, along with other former regime officials.
According to the law, the Appeals Court must agree with the IGA, a body affiliated with the Justice Ministry, to freeze any assets.
The IGA has said their investigations indicate that some Mubarak regime officials abused their power to acquire wealth beyond their legal incomes, state-run news service MENA reported.
Last September, a court ruled that Ahmed Shafiq would face trial on charges that he allegedly sold plots of state land at a fraction of their value to Gamal and Alaa Mubarak, the sons of the ousted president, when he was the head of a pilots' housing association in the 1990s.
Shafiq has been living in the United Arab Emirates since he narrowly lost the June presidential election to Mohamed Morsy.
On Wednesday, Shafiq told Al-Masry Al-Youm that he withdrew more than LE1.5 million from his accounts in Egypt. He repeatedly denied corruption allegations and says they are politically motivated.
Along with Shafiq, the IGA requested to freeze the assets of Mohamed Barakat, former chair of the state owned newspaper Akhbar al-Youm; Khaled Abaza, editor of the supplement Akhbar al-Sayarat; and Ali Abdullah Abdel Aziz, head of the Tourism Development Authority.
The court would set a date to hear the case in a few days, MENA reported.
Following the ouster of the former president, the IGA has conducted wide investigations into the fortunes of scores of Mubarak officials, some of whom have been convicted of profiteering.