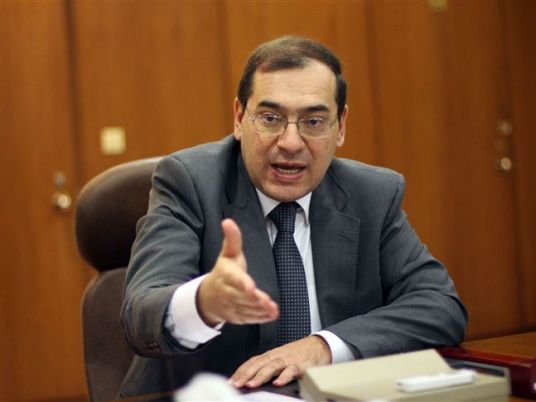 Minister of Petroleum Tariq al-Mulla met with a high-level delegation from Apache Oil Corporation, to discuss the means of developing and expanding the American company's gas exploration in Egypt.
Mulla met with Apache's Chief Executive Officer John Christmann, its Executive Vice President and Chief Financial Officer Stephen Riney, its Senior Region Vice President of Egypt Operations Grady Ables, and Apache Egypt General Manager David Chi, according to a Petroleum Ministry statement.
The delegation reportedly discussed the company's "existing position" and its targeted investment plans in the coming years. Apache intends to increase exploration to support reserves, and help to increase Egypt's oil and gas production.
Mulla and the officials reviewed the ongoing project to modernize and develop the petroleum sector – particularly the development of human resources through multinational corporations, which the ministry views as having been a crucial success for Egypt's investment climate.
For his part, the President of Apache International expressed his desire to form a joint working group to prepare a plan of action for the next five years, including exploration and drilling programs, and the volume of investments and production expected using the latest technologies in the oil and gas industry.
Christmann reported plans to begin work in the new concession area "East Bahri" in the Western Desert, which was given to the company recently, and was signed last month, immediately after the completion of procedures and permits to commence the ambitious drilling program in this region using two diggers.
According to Christmann, Apache investments in are planned to reach about one billion dollars annually, reflecting Egypt's importance to the company.
Christmann expressed his admiration for Egypt's economic decisions of the past three years, and the petroleum sector in particular. He claimed that the government's clear vision and "bold decisions" have moved it in the right direction, encouraging more investments.
Edited translation from Al-Masry Al-Youm