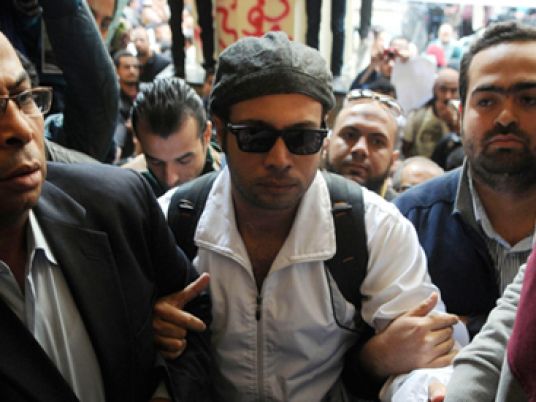 April 6 Youth Movement coordinator Mohamed Abdel Wahed denounced on Sunday the sentencing of Movement general coordinator Ahmed Maher, Movement Spokesperson Mohamed Adel and activist Ahmed Douma to three years in prison and a LE50,000 fine.
"The ruling is null, baseless, and aims to suppress freedoms and restrict the revolutionary youth," Abdel Wahed told Al-Masry Al-Youm.
Abdel Wahed said the April 6 Movement will not be intimidated by the ruling and will continue to fight against oppression and corruption.
Former MP Mostafa al-Naggar commented on the ruling saying that Egypt is currently witnessing a campaign to seek revenge for the revolution.
"[Egypt] starts a phase of vengeance on the revolution and alienating everyone in an attempt to revive the state of fear and oppression," Naggar wrote on his Facebook account.
Abdeen Misdemeanor Court sentenced the three activists Sunday on charges of assaulting the CSF and injuring six soldiers, showing force outside Abdeen court, staging a protest without notice, assembling, suspending traffic and sabotage.
The prosecutor said during his argument before the court that the three defendants could have objected to the recently-issued law regulating demonstrations through the Administrative Court rather than through protesting.
Al-Watan newspaper quoted Strong Egypt Party media official Ahmed Shahtout saying that the government aims to intimidate Egyptian people and activists so as not to expose the regime's crimes and violations. He added that jailing the three activists would increase public outrage.
Edited translation from Al-Masry Al-Youm