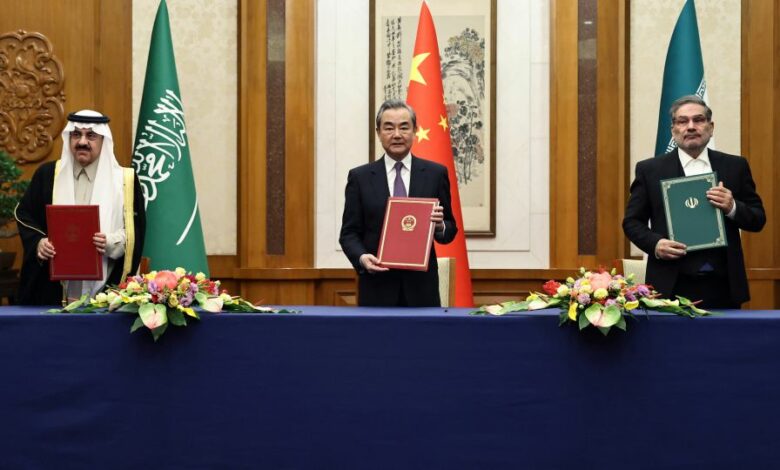 The Secretary-General of the Arab League Ahmed Aboul-Gheit said that the deal to normalize relations between Saudi Arabia and Iran has put an end to tensions and indicates a positive phase in bilateral relations.
"The agreement ends the state of tension between the two countries that lasted for more than seven years. It is a step that could indicate a new positive phase in bilateral relations that may be useful in contributing to achieving a measure of regional stability," Aboul-Gheit tweeted on Saturday.
On Friday, Iran, Saudi Arabia and China announced in a joint statement to resume bilateral relations between the two countries at a Chinese initiative.
According to the declaration, Saudi Arabia and Iran reached a deal that includes resuming diplomatic relations and reopening their embassies and representations within a maximum period of two months, and includes their affirmation of respect for the sovereignty of states and non-interference in their internal affairs.
A CNN report said that the move "was surprising yet expected. The two regional powerhouses have been in talks to re-establish diplomatic relations for nearly two years. At times, negotiators seemed to drag their feet, the deep distrust between the two countries appearing immovable."
"Iran's talks with Saudi Arabia were unfolding at the same time as negotiations between Iran and the United States to revive the 2016 nuclear deal were faltering. The outcomes of both sets of Iran talks seemed interlinked – Riyadh and Washington have long walked in lockstep on foreign policy," the report added.
"But a shift in regional alliances is afoot. Saudi Arabia's relationship with the US has become strained in recent years, while China's standing has risen. Unlike Washington, Beijing has shown an ability to transcend the many rivalries that criss-cross the Middle East. China has forged good diplomatic relations with countries across the region, driven by strengthening economic ties, without the Western lectures on human rights" according to the CNN.