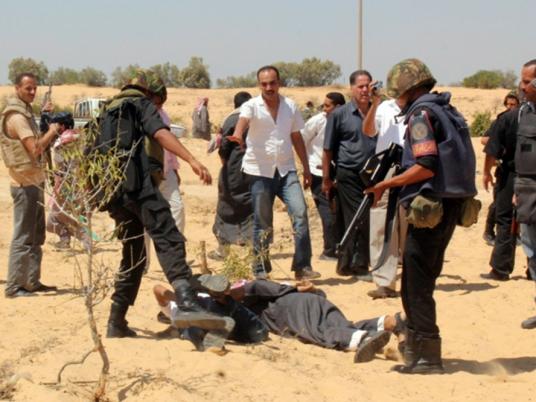 Activists in Sinai responded negatively to a press conference organized by the Armed Forces on Saturday to discuss the results of Operation Eagle which targeted militants in the peninsula.
In August, the Armed Forces launched an operation to target radical groups in Sinai who are believed to have perpetrated an attack on Egyptian security guards on 5 August, killing 16 guards.
Media spokesperson for the Armed Forces Mohamed Ahmed Aly said at the conference that 31 tunnels were discovered and destroyed, 32 criminals were killed and one was wounded during clashes, 38 suspects wanted for pending criminal cases were arrested and 20 vehicles used in criminal operations were confiscated.
Hamdein Abu Faisal, an official from the Sunnah and Jama'a group in Sheikh Zuwayed, said the deaths announced "are only in the imagination of the Armed Forces."
"Five were killed at Nagaa Shabana and another seven were handed over by Israel," he said.
Activist and author Mosad Abu Fagr wrote in his blog, "I do not know what pushes an official to lie. Is it the lack of a fertile imagination, for instance?"
Mostafa Senger, an activist from the Revolutionary Socialists movement, said the conference has not provided any new information and has shown that the operation has failed, since the data announced was different from the results on the ground.
"They want the case closed and after a while they will announce the names of suspects, most of whom are fugitives, and sentence them in absentia," adding that the case would be the same as older ones.
The spokesperson for the Salafi Dawah in Rafah, Marie Arrar, said the conference was disappointing and added that they wished charges were brought against those who really perpetrated the attack.
He also cast suspicions on the number of people declared killed, suggesting there were fewer.
Edited translation from Al-Masry Al-Youm