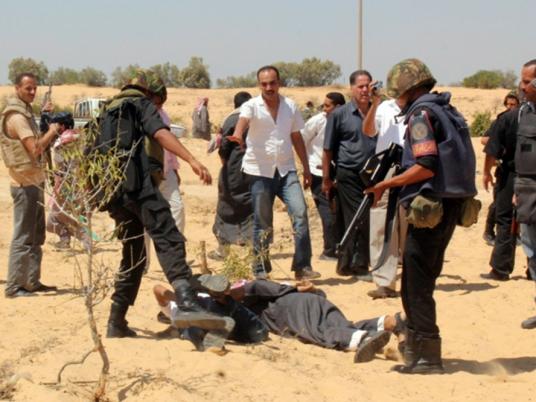 The military operation being carried out by the Armed Forces in Sinai is not a violation of the peace agreement with Israel, which regulates the presence of military forces in the Sinai Peninsula, said Armed Forces Media spokesperson Colonel Ahmed Mohammed Ali on Saturday.
The press conference on Saturday was the first of its kind for the recently introduced office of the armed forces spokesperson.
The conference was dedicated to announcing the results of the operation carried out by the Armed Forces to confront extremists that Egyptian authorities blame for the deaths of 16 soldiers on a border checkpoint on 5 August.
Ali stated that the introduction of his office came as a desire from the Armed Forces to develop their style in dealing with the media, and to make information about the Armed Forces available. He said that he will hold periodic meetings with media correspondents in the future.
The military spokesperson said, "The use of the Armed Forces of the entire territory of Sinai is not a violation to the peace agreement. We stress our respect for international treaties without compromising national security."
He explained that the peace treaty signed with Israel includes a text on the coordination between the two sides, Egypt and Israel, on the military activities in such cases.
He stressed that the Egyptian military presence on the entire territory of Sinai as part, as part of its now implemented mission, was coordinated through contacts between the two sides according to the agreement.
He stressed that the ongoing military operation in Sinai is titled "Sinai," denying what media reports have said about the operation being named, "Operation Eagle."
Ali revealed that Operation Sinai was launched on orders from President Mohamed Morsy to restore the security situation in the area, in preparation for the launch of a comprehensive development process, noting that the funds allocated to the development process in Sinai has reached LE1.65 billion.
Operation Sinai is carried out over two phases, according to Ali. The first phase lasted from 7-30 August, and was aimed at quickly restoring the control of the police and destroying tunnels to the Gaza Strip to counter infiltration.
The second phase began on 31 August and will continue until the complete eradication of criminal activity.
The official accurate figures of the first phase results, according to the Military spokesperson, are as follows: 31 tunnels were discovered and destructed, 32 "criminal elements" were killed and one was wounded during clashes, 38 suspects wanted for pending criminal cases were arrested and 20 vehicles used in the criminal operations were confiscated.
Ali added that large quantities of weapons were confiscated, including automatic rifles, machine guns, anti-aircraft, mortars and anti-tank mines.