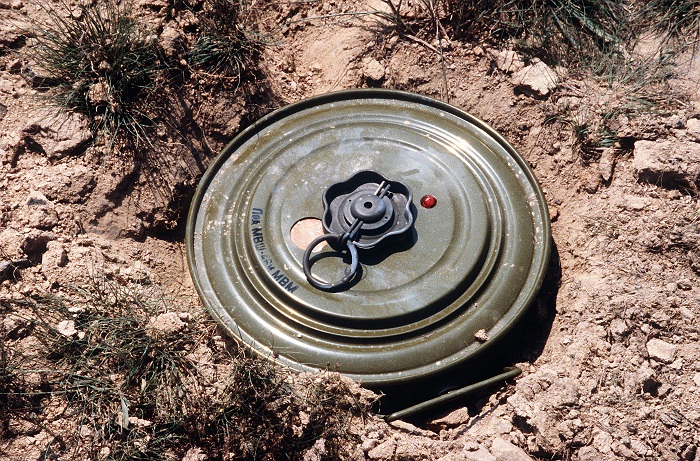 Egypt's Minister of Investment and International Cooperation Sahar Nasr announced on Friday that 1,454 kilometers have been cleared of landmines at Al-Alamein town thanks to help from the United Nations, according to the latest data monitored by the Executive Secretariat for the Demining and Development of the North West Coast (ESDDNWC).
Nasr added that a comprehensive database of mine accident survivors has been devised and will be updated periodically, along with organizing three mine awareness campaigns targeted at 160,000 Matrouh residents.
She added that the government will not only remove the landmines, but utilize development tools to help citizens and the affected areas, alongside negotiating new grants.
Since the launch of the demining project in 2007, efforts from the international cooperation sector and the State Committee for Demining have provided the necessary equipment for demining work, Nasr stated, adding that $1 million has recently been made available to the Armed Forces Engineering Authority, used to purchase all equipment and supplies needed to clear the landmines.
"Our role is not only to clean up the land and remove mines and unexploded ordnance, but to extend sustainable development projects in the affected areas, such as establishing a center for small agricultural industries in Matrouh and a high-quality olive oil production line, with investments of up to $350,000," Nasr said.
Sahar added that a grant worth $1 million is being negotiated by the Arab Fund for Economic and Social Development (AFESD) to support the plan for sustainable development and mine clearance in the North West Coast, under the supervision of the Ministry of Investment and International Cooperation through the ESDDNWC.
Ahmed Amer, an expert on landmines dangers in Matrouh said that Egypt is one of the world's largest landmine countries, a legacy left by World War II where estimated 16.7 million explosive objects were left behind.
According to Amer, Armed Forces have successfully cleared 40 percent of these mines.
He added that year 2016 was the first ever time that no mine victims were registered, as in the past usually four to six people died and 15-25 injured were each year as a result of the landmines.
The ESDDNWC said that WWII landmine leftovers contaminated 2,680 square kilometers of land in the northwest coast, equivalent to 16 percent of Egypt's geographic area.
In 2006, the estimated number of mine incidents was 8,313 (697 killed and 7,616 injured), of which 5,015 were civilians, it says.
Edited translation from Al-Masry Al-Youm