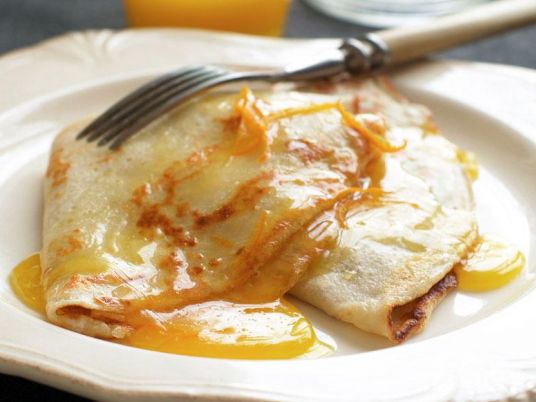 With Mardi Gras, Pancake Day and Candlemass just around the corner, pancakes will be on the menu this February in various parts of the world. From France's crêpe Suzette to Britain's crumpets, countries across the globe have their own local variants, with both savoury and sweet specialties to sample. Here's a look at some of the world's different types of pancakes.
Crêpe Suzette – France
Crêpe Suzette is the ultimate French pancake. Invented by Auguste Escoffier at the end of the 19th century, the crêpe Suzette shouldn't be confused just any old flambéd pancake. This French classic must be served with a sauce flavoured with orange zest and a dash of Grand Marnier liquor to truly earn its name. The dish is apparently named after the young woman (Suzanne) who was dining with the future king of England, Edward VII, when he sampled the dish.
Hirams plattär – Sweden
Take the ingredients and technique of choux pastry and the look of the classic French crêpe and you basically have this Swedish specialty. This pancake, however, has a slightly puffier consistency and is usually served with yellow cloudberry jam. This can usually be found at a certain famous Swedish furniture store.
Crumpet – UK
A staple of the breakfast table or a great afternoon snack, crumpets are a quintessentially British speciality. The crumpet – whose name can also be slang for a pretty girl – is made with fresh yeast which makes the mixture rise. This gives crumpets their soft and spongy texture, as well as their characteristic holes. Crumpets can be enjoyed with marmalade or simply spread with butter.
Dorayaki – Japan
This is essentially a Japanese version of American pancakes. Unlike the US variety, Tokyoites – who lay claim to the specialty – use a kidney bean purée to fill two pancakes which are then stuck together while warm. This paste is called "anko" and can easily be made at home or bought from Asian food stores.
Msemen – Morocco
Visitors to the North African kingdom will no doubt be familiar with this specialty, which looks like homemade French crêpes at first glance. It is, however, quite different. First of all, msemen are folded on each side to form a square shape. But, more importantly, the dough is made from fine-grain semolina. This is kneaded for a long time to form a very thin film. Msemen are enjoyed with honey and a glass of steaming hot Moroccan mint tea.
Paratha – India
There are many kinds of breads in Indian cuisine that can resemble pancakes. There are naans, of course, but paratha breads are perhaps more pancake-like still. Partha breads are a bit like puff pastry versions of chapatis, made from wholemeal wheat flour, corn flour or millet flour. They aren't cooked in the same kind of oven traditionally used to make naan breads and there's no fermentation stage with yeast when preparing the dough.
Farinata – Italy
This Genoan recipe is a veritable institution in Italy. Farinata is a savoury pancake made from chickpea flour, water, salt and oil, which is cooked in a wood-fired oven. Each region has its own variants and preferences for Farinata, which can be eaten with pesto or gorgonzola, spread on the pancake straight from the oven.
Dosa – India
Among the various forms of Indian flatbreads and pancakes, dosas are a must-try. These Southern Indian pancakes are made from black eyed peas and fermented rice. They can be garnished with vegetables, ground meat, chutneys and more.
And also …