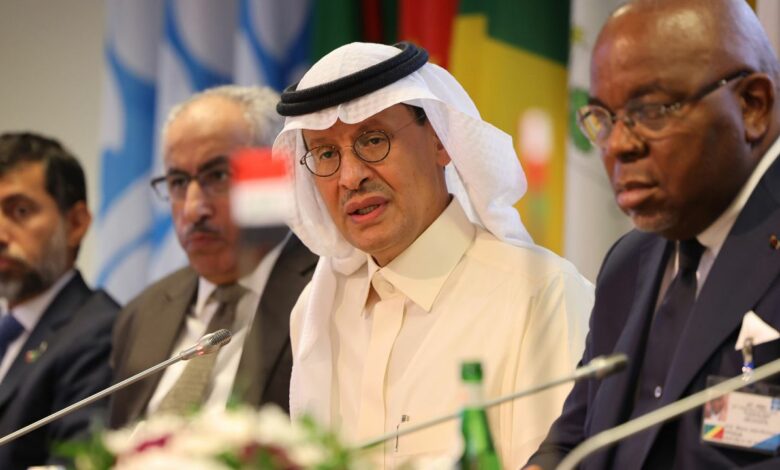 Abu Dhabi
CNN
 —  The Saudi-American relationship appears to have hit rock bottom.
After a move by the Saudi-led OPEC+ oil cartel to cut oil production, which could see inflation in the United States soaring just weeks ahead of the midterm elections, President Joe Biden told CNN's Jake Tapper that it's time for the US to rethink its relationship with Saudi Arabia.
On Wednesday, Saudi hit back, saying a US request to postpone the decision to cut production "for a month" would have had a negative economic impact. The idea of the administration asking the Saudis to delay the cut until after the elections has Biden's critics seething.
The White House responded Thursday by saying Riyadh was trying to "spin" the matter. The National Security Council's strategic coordinator for communications, John Kirby, reiterated that the US is "reevaluating our relationship with Saudi Arabia in light of these actions."
The White House and the Democratic party are on a mission to punish the kingdom. A host of measures have been suggested, all drastic moves that analysts say could seriously dent the US' eight-decade partnership with the kingdom – if they ever materialize.
Riyadh has suggested that the threats are pre-election posturing on the Democrats' part.
"When you are in the election season, what some call 'the funny season', a lot of things are said and a lot of things are done that may not make sense at another period of time," Adel al-Jubeir, minister of state for foreign affairs, told CNN's Becky Anderson. "I hope this is what we're dealing with here."
Here's a look at the options US politicians are considering, and how viable they are:
Passing the NOPEC Bill
Almost immediately after the decision to cut oil production, the White House said President Biden would "consult with Congress on additional tools and authorities to reduce OPEC's control over energy prices," which was widely interpreted as a threat to back the bipartisan NOPEC bill that could spell the end of the OPEC cartel.
The bill is meant to break oil prices from the grip of a few countries by exposing OPEC states to antitrust laws. If passed, the bill would lift immunity from OPEC members and their oil companies and sue them for colluding to boost prices.
A US Senate committee passed the bill in May. But in order to become law, it would still need to go through the full Senate and House and be signed by the President.
A survey by Morning Consult and Politico found that just under half of US voters would support the NOPEC bill, including over half of Democrats and two in five Republicans.
But passing the bill would not be without consequences to the US itself, analysts say.
"I think this will be a chilling effect on a lot of the oil and gas industry," said Karen Young, senior research scholar at the Columbia University Center on Global Energy Policy, "and will make all kinds of joint ventures and investments with national oil companies more complex."
There are also concerns that removing a cap on production would sink oil prices so low that the US oil industry could go out of business. Saudi Arabia has the lowest oil extraction costs in the world, so it can continue to make a profit at very low oil prices. Extraction costs in the US are significantly higher.
The American Petroleum Institute, a trade association for the oil and natural gas industry, has come out strongly against the bill, saying it would be detrimental to US diplomatic, military and business interests. The US Chamber of Commerce said in May that the legislation "would have zero impact at taming gasoline prices."
Cutting US arms sales to Saudi Arabia
Senate Foreign Relations Committee Chairman Bob Menendez, a New Jersey Democrat, this week called for an immediate freeze in US-Saudi relations, including putting an end to arms sales beyond what is needed to defend US personnel.
While a number of politicians showed their support, others expressed concern, saying it would only push Saudi Arabia further into the arms of Russia.
The US is the world's largest arms exporter, with foreign military sales averaging about $47 billion in the 2021 fiscal year. Saudi Arabia is a key client, accounting for 24% of all US arms sales, according to a 2021 report by the Stockholm International Peace Research Institute.
"The average American [isn't] aware… [that] this is a commercial market. And it's a market in which the Saudis kind of pay top dollar," said David Des Roches, a professor at the Near East South Asia Center for Strategic Studies and former Pentagon official who worked on the Middle East. "The Saudis are actually kind of subsidizing our system of defense exports for everybody else," he said.
Young believes that a complete freeze of arms sales to Saudi Arabia is unlikely to materialize. The kingdom might instead see other restrictions on the type of weapons sold, she said.
While there is no immediate replacement for US defense systems, added Young, increased US restrictions could provide "inroads" to other suppliers.
Saudi Arabia has already been trying to diversify its arms sources, analysts say, and may resort to buying weapons elsewhere should the US further restrict access to American arms.
"It has longstanding relations with the UK, France and China and is also establishing relations with Brazil, South Africa and others," said Ali Shihabi, a Saudi author and analyst. "This whole circus is just convincing Saudi policymakers that they can no longer rely primarily on the US… The era of putting all its eggs in the US basket is over for the kingdom."
Analysts agree however that replacing the US defense infrastructure is impossible in the medium term.
Withdrawing US troops from Saudi Arabia and the UAE
Three Democratic lawmakers last week introduced a bill to "end US protection to Gulf partners" by withdrawing troops from Saudi Arabia and the United Arab Emirates, another member of the OPEC+ cartel.
"Both countries have relied on an American military presence in the Gulf to protect their security and oil fields," read the statement, adding that there is no reason US troops and contractors should continue protecting "countries that are actively working against us."
The UAE hosts approximately 3,500 US military personnel, and while the US withdrew most of its troops from Saudi Arabia in 2003, it still provides substantial arms support that aims to combat attacks by Yemen's Iran-backed Houthis amid the group's war with the Saudi-led coalition.
But a US troop withdrawal is unlikely, experts say, as it would leave a vacuum in the region that could be filled by US adversaries such as Iran, China and Russia.
"When the Americans talk about security in the Gulf, many forget it's to protect the free flow of oil and gas from the Gulf, not protect the Saudi royal family," said Shihabi. "This serves US interests and gives it leverage over not only countries like China, which depend on oil coming from the Gulf, but also Japan, India and Europe."
The military officers stationed in Saudi Arabia have helped the kingdom avoid hitting civilian targets in its war in Yemen, said Des Roches, adding that severed defense relations could take years to rebuild and would cause the US reputational damage as a security partner.
What other options are there to punish the Saudis?
Experts say all the options cited by US politicians to punish Saudi Arabia are unrealistic and unlikely to materialize, and the White House may instead choose to take a much less significant, face-saving measure.
"The Biden administration is elevating this tension for political gains, and it is dangerously short-sighted," said Young. "It makes the relationship solely about oil when all along the administration had tried to make it about something larger and more historic."
"We may end up with a watered-down statement on arms sales and a rebuke of 'values'," she said.
High level meetings between Saudi and American officials could also be halted for some time, said Des Roches. "The work is all done at a lower level anyhow," he said.
"There's a reason why this relationship has been uninterrupted since the days of Franklin Roosevelt," he added. "It's a relationship based on interests, and the interests remain unchanged."