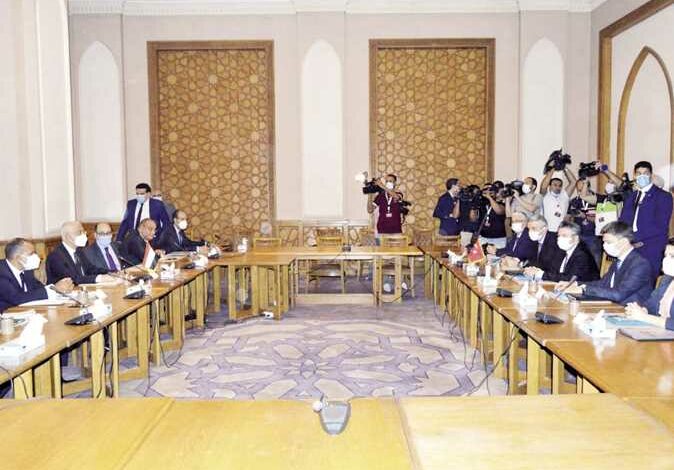 The Egyptian Foreign Ministry announced that a second round of exploratory talks will be held between Egypt and Turkey to address bilateral relations and some regional issues, in response to an invitation from the Turkish Foreign Ministry.
The Ministry of Foreign Affairs said in Tuesday statement that Deputy Foreign Minister Hamdi Loza will visit Ankara on September 7-8, and both sides will evaluate the outcome of this round of consultations to agree on the next course of action.
The first round of exploratory talks between Egypt and Turkey concluded on May 6, after lasting two days in Cairo.
The Egyptian delegation was headed by Loza, while the Turkish delegation was headed by Turkey's Deputy Foreign Minister Sedat Onal.
The Egyptian Foreign Ministry stated that the discussions were frank and in-depth, andtouched on bilateral and regional issues, especially the situation in Libya, Syria and Iraq and the need to achieve peace and security in the eastern Mediterranean region.
Former Assistant Foreign Minister Rakha Hassan said that May's talks brought relief on Turkey's side, especially the Turkish opposition and the moderate wing of the ruling party and Turkish businessmen, but statements were later issued by certain Turkish officials regarding the Muslim Brotherhood terrorist group which confirms Turkey has yet to change its policies.
"After that, a judicial ruling was issued against some Brotherhood members, and Turkish statements were also issued to comment on this judicial ruling. As a result of these Turkish positions, the situation froze again between Egypt and Turkey at that time," Hassan told Al-Masry Al-Youm.
He said that the Turkish responses to Egyptian demands and the non-recurrence of provocative statements would greatly contribute to improving relations between Egypt and Turkey.
Turkey's position on the Muslim Brotherhood and any interference in Egyptian internal affairs are completely rejected, he stressed.
Hassan indicated that the Libyan issue is one of the main issues in determining the course of Egyptian-Turkish relations.
Edited translation from Al-Masry Al-Youm