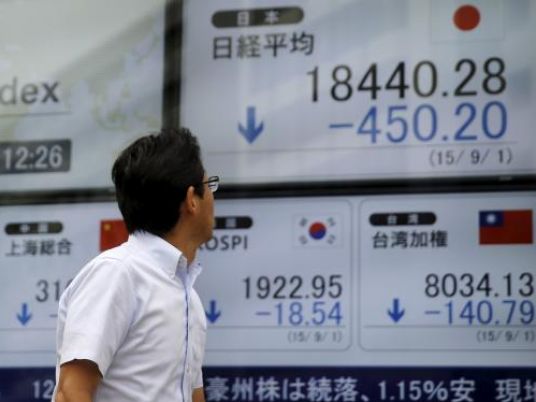 Asian stocks dipped in early trade on Monday, while the dollar retreated against most regional currencies as a weak reading in a Chinese manufacturing index stirred worries about the world's number two economy.
On equity markets, there were losses across the board as Sunday data showed activity in China's vast manufacturing sector declined in October for the third straight month, triggering worries about the Chinese economy, a crucial driver of global growth.
Investors also turned to profit taking after equity markets surged last month, recovering from their worst quarter in four years during July-September, as analysts said fresh cues were needed for markets to rally further.
China's Purchasing Managers' Index (PMI), tracking activity in the factory and workshop sector, was unchanged from the previous month at 49.8, the state statistics office said Sunday.
A PMI figure above 50 signals expanding activity while anything below indicates shrinkage.
"I'm struggling to see catalysts to encourage the market to take this rally to the next level," said Tony Farnham, a strategist at Patersons Securities Ltd.
"China's PMI numbers were underwhelming. Manufacturing will probably remain weak as China tries to rebalance its economy away from manufacturing and into services."
Tokyo was down 1.87 percent by the lunch break on the weak figures, Hong Kong fell 0.60 percent in early trade and Shanghai dropped 0.38 percent.
Sydney lost 1.26 percent as oil halted a three-day climb, while Seoul edged up 0.17 percent after a drop in South Korean exports.
On Wall Street Friday, the Dow fell 0.52 percent, the S&P 500 lost 0.48 percent and the Nasdaq dropped 0.40 percent.
Dollar retreats
The dollar remained under selling pressure against emerging currencies and the yen early Monday, after stagnant US economic indicators bolstered the argument against a December rate hike.
The US government said Friday its consumer spending rose only by 0.1 percent in the United States in September, less than expected and the slowest rate since January.
While the US Federal Reserve said earlier this year it expected to tighten monetary policy before 2016, the summer's turmoil on global markets and a slowdown in the world economy have forced policymakers to stay their hand.
"Tokyo has taken over the dollar-selling sentiment from New York," Minori Uchida, head of Tokyo global markets research at Bank of Tokyo-Mitsubishi UFJ, told AFP.
"It is difficult to buy the dollar now as the recent economic figures are not strong enough to justify a rate hike," Uchida said.
Many economists now are tipping a lift-off early in the new year, bolstering emerging market currencies, which had been hammered this year on talk of a 2015 move as investors remove their cash to the United States in search of better, safer returns.
In early trade on Monday, the Malaysian ringgit added 0.21 percent against the dollar, while the Indonesian rupiah advanced 0.20 percent, the Singapore dollar rose 0.07 percent, Taiwan's dollar gained 0.35 percent and the Thai baht was 0.14 percent higher.
The greenback bought 120.40 yen from 120.67 yen Friday in New York.
The euro was at $1.1032 and 132.83 yen from $1.1003 and 132.77 yen in US trade.