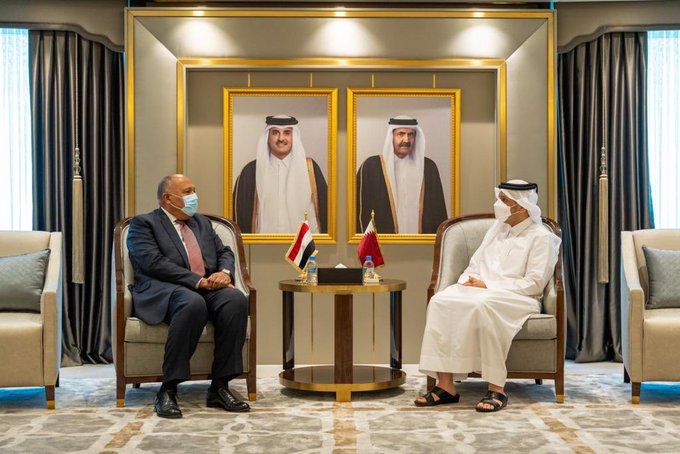 Assistant Foreign Minister for Arab Affairs, Alaa Moussa, received on Friday Assistant Foreign Minister of Qatar for Regional Affairs, Muhammad bin Abdulaziz bin Saleh Al-Khulaifi, at the headquarters of the Foreign Ministry in Cairo.
The two sides discussed the various aspects of the bilateral relations between the two countries and ways to enhance the paths of cooperation. A number of regional issues and topics of common interest were also tackled.
Egypt appointed an ambassador extraordinary to Qatar in June 2021 for the first time since 2014.
Egypt withdrew its ambassador from Qatar in 2014, before deciding to completely sever diplomatic relations in mid-2017.
The ambassador extraordinary enjoys expanded legal powers, including signing agreements in the name of the state or body he represents, unlike a regular ambassador.
Relations between Egypt and Qatar became tense after the overthrow of the late President Mohamed Morsi and the Muslim Brotherhood in 2013. Egypt joined Saudi Arabia, the UAE, and Bahrain in cutting ties with Qatar on June 5, 2017.
Qatar has been mending its relations with the countries since they all signed the Al-Ula agreement on January 5, 2021.
The foreign ministers of Qatar and Egypt have recentlyexchanged official visits to Cairo and Doha, and the Emir of Qatar, Sheikh Tamim bin Hamad, and Egyptian President Abdel Fattah Al-Sisi exchanged visiting invitations, amid continuing talks to improve relations.