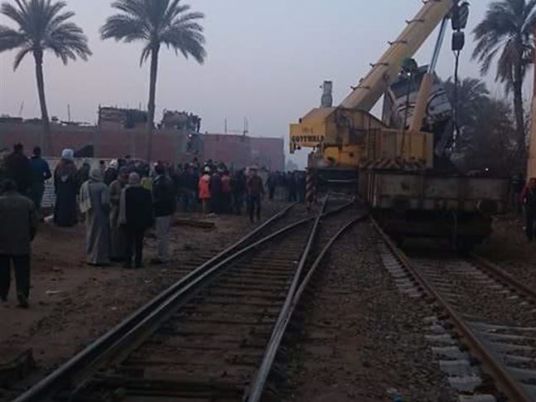 On Saturday, southbound trains resumed a normal service after a five-hour delay due to a train derailing near the village of Al-Ashraaf on the Aswan-Cairo line, injuring several people.
Officials from the Egyptian Railway Authority cleared the line and resumed operations in both directions of travel after train 989 came off the track outside Al-Ashraaf in Upper Egypt while on its return journey from Aswan to Cairo. The derailment resulted in several people being injured, but none seriously.
Railway Authority investigations identified that the incident was caused by a fault with the wheels on the train, which were susceptible to locking suddenly, causing a high risk of a carriage coming off the rails.
A large winch was brought from Luxor to lift the train carriages that had been derailed back onto the track so that the train could resume its course.
General Salah Hassaan, the head of Qena's security, was notified about the incident and immediately brought a team from the Railway Authority to clear the track.
Brigadier Ayman Fathy, the Head of Criminal Investigations, led the investigation.
Edited translation from Al-Masry Al-Youm