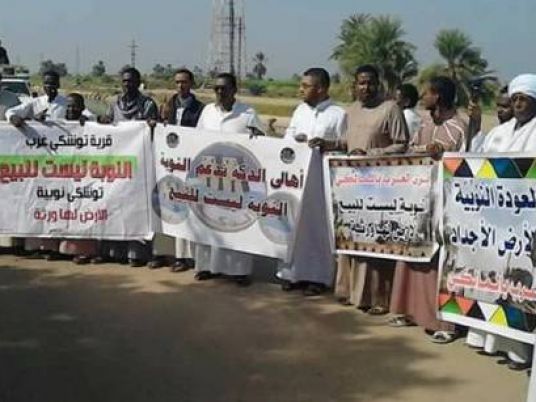 Aswan prosecutors began the interrogation of 24 Nubians who participated in the "Nubian Gathering Day" march, which took place in Al-Jazeera Square on Sunday. The demonstration took place in the Central Security Forces Camp in al-Shallal area, and the protestors are being investigated on charges of "instigating demonstrations, possession of leaflets, undermining public security, disrupting traffic, and demonstrating without a permit to pressure the state to fulfill their demands".
The march called for the implementation of Article 236 of the Constitution that returns Nubians who were displaced from their lands during the construction of the High Dam. They called also for the cancellation of resolution 444, and demanded the establishment of an authority for the development of Nubia.
The protesters rejected the results of an inventory committee formed by the state, to estimate the compensations deserved to displaced Nubians, and called for the halt of land seizures on the Nile strip in western Aswan.
Protesters chanted Nubian songs and carried banners that read their demands.
Security forces intercepted the Nubian march on the Corniche of the Nile and arrested 24 participants, including lawyers, Mounir Bashir, president of the Nubian Lawyers' Association, and Mohamed Azmy, former president of the Nubian General Union in Aswan.
Tight security measures were imposed around Aswan governorate headquarters and Dorrat al-Nil park where protesters were called to assemble, police patrols combed the city.
The law was applied to the march as participants had not obtained a permit from authorities prior to organizing it, a security source said.
Edited Translation from Al-Masry Al-Youm