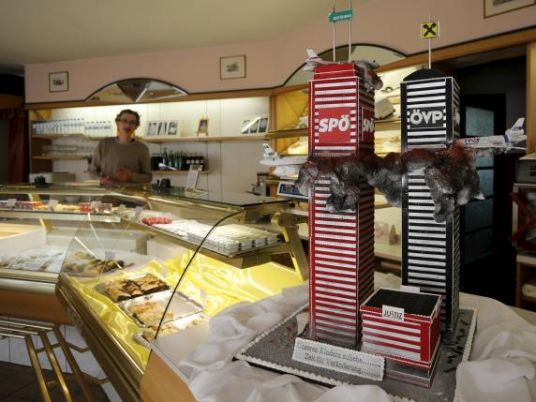 A Vienna baker has stirred up anger by making a cake depicting Austria's main political parties as New York's twin towers coming under attack from opposition party aircraft.
"It's ironic that a baker has no taste," wrote one critic on the website of the mass-circulation Heute tabloid that highlighted the unusual creation. "I would call this incitement to terrorism," wrote another.
But baker Thomas Kienbauer defended his work on Tuesday, saying it represented legitimate political commentary.
"The cake is supposed to represent the collapse of the 'grand coalition'," he told Reuters, referring to the centre-left Social Democrats (SPO) and the conservative People's Party (OVP) who share power and have dominated post-war politics here.
He said he was inspired by the fact that the attacks on the World Trade Center towers by Islamist militants using hijacked aircraft took place on September 11, 2001 (9/11), while Vienna local elections will take place this year on October 11 (10/11).
The 9/11 attacks killed nearly 3,000 people.
Kienbauer brushed off the online anger.
"Most people who see this cake interpret it immediately as lots of people lost their lives and … blah blah blah. Few see the purpose behind the whole thing," he said.