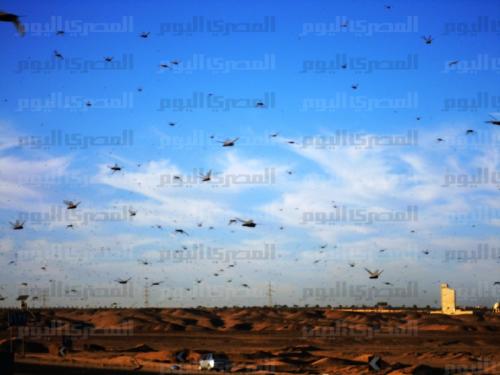 Locust-fighting efforts have so far eradicated 95 percent of the swarms that arrived in Cairo on Saturday from the south of the country, according to the Ministry of Agriculture and Land Reclamation.
Small numbers of locusts were seen on Monday above Nasr City, Cairo Stadium, and Cairo International Airport, according to a ministry statement released late Sunday and quoted by state run news agency MENA.
Local residents in Cairo's Moqattam neighborhood set car tires alight in an effort to disperse the swarms.
The swarms first appeared in November 2012, currently continuing their seasonal migration to reproduction areas at the Red Sea coasts. In January, their numbers increased.
Nearly 17,452 locusts were exterminated, the statement said.
Egypt has been affected by locust swarms before, notably in 1954, when red locusts ate nearly 250,000 tons of corn in Egypt and North Africa.
Since then, locust swarms from the Arabian Peninsula have periodically attacked Egypt, including in 1968, 2004, 2007 and 2011, but without resulting in major crop damage.
The ministry said it is currently looking into unconfirmed reports about swarms of locusts in Ismailia.