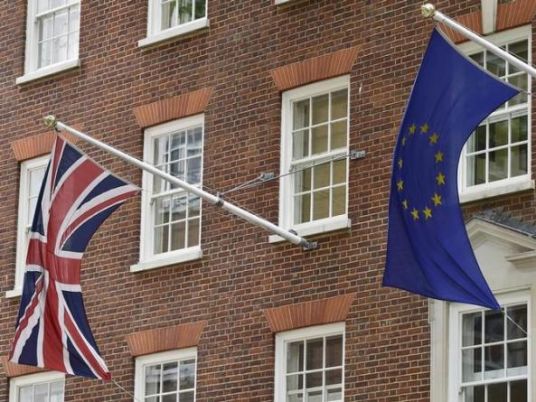 David Cameron sought to defuse fellow EU leaders' frustration over a lack of detail in his demand for new membership terms from the bloc by promising on Thursday to send them his wish-list in writing in early November.
The British prime minister says his bid to renegotiate relations with the bloc it joined in 1973 is "bloody hard work", but many officials across the European Union have expressed irritation that London has yet to spell out specific proposals since Cameron was re-elected in May.
With EU leaders grappling with a migration crisis, some officials have cautioned that an initial schedule that envisaged a deal being hatched in December could slip, pushing back Britain's referendum until at least late 2016.
"The pace will now quicken and I'll be again setting out the four vital areas where we need change, laying down what those changes will be at the start of November," Cameron said as he arrived for a summit of EU leaders in Brussels.
"So we quicken the pace and quicken those negotiations in the run-up to the December Council," he said of the next summit, scheduled for December 17-18.
An official in his office who spoke on condition of anonymity said Cameron had told other leaders that he would detail his wish list to Council President Donald Tusk in early November. The letter will be published.
Tusk welcomed Cameron's decision to lay out his thinking in writing, saying real negotiations could then begin. Cameron left the summit, which ended at midnight, without comment.
A British divorce would shake the Union to its core, ripping away its second largest economy and one of its top two military powers. Pro-Europeans warn an exit from the EU would hurt Britain's economy and could trigger the break-up of the United Kingdom by prompting another Scottish independence vote.
Until Cameron has a deal he thinks is good enough to sell to the British public, his government is refusing to back either the domestic 'in' or 'out' campaigns which launched over the past few weeks.
EU leaders said in the summit conclusions they had been informed about the plans for Cameron's referendum and would revert to the matter in December.
"I'm confident we can get a good deal for Britain, fix those things that need to be fixed," Cameron said on arrival.
Time to tango?
Cameron, who opposes any further transfer of sovereignty to the EU and says voters are unhappy with the current settlement, formally began his renegotiation with a brief summary of Britain's objectives to other leaders in June.
He briefly updated other leaders on the renegotiation at the Brussels summit, which a British official said marked a move towards a new stage of broader negotiations ahead of the December Council meeting.
Cameron, who once said his party had alienated voters by "banging on" about Europe, wants a commitment that the goal of ever closer union in the EU treaty's preamble should not apply to Britain.
He also seeks protection of British financial interests outside the euro area, better regulation to promote competitiveness to create jobs and growth, and tighter welfare rules to reduce the incentives for migration within the EU.
Senior EU officials and diplomats said that a substantive political negotiation at December's summit will only be possible if Britain delivers clear, written proposals to Brussels and the 27 other national governments by early November.
"I can't say that huge progress has been achieved. I can't say that nothing has been achieved. But to tango it takes two," EU chief executive Jean-Claude Juncker said on the eve of a meeting with Cameron. "And so we have to dance and our British friends have to dance."
When asked about Juncker's comments, a British official referred to a popular British television show featuring celebrities paired with professional dancers: "This is not Strictly (Come Dancing) — this is a renegotiation."
Juncker said he had a good talk with Cameron over lunch: "I had a very good friendly, polite, constructive meeting with David Cameron today." He repeatedly refused to discuss dancing.
But for the politicians, the choreography is delicate.
Gamble on merkel?
Cameron appeared to hesitate about giving detail for fear of provoking a backlash from Eurosceptics during his Conservative Party conference last week and is waiting for the Polish general election, being held on October 25.
The biggest of the eastern states whose citizens form a large portion of EU immigrants to Britain, Poland and its former Communist neighbours have made clear they are very wary of Cameron's calls for limits on the freedom of Europeans to live and work anywhere in the bloc.
But Cameron, who is betting German Chancellor Angela Merkel will deliver a deal, cannot delay for too long.
Britain wants to finish the renegotiation before national elections in Germany and France in 2017.
Merkel, who did not mention Britain after the summit, told parliament in Berlin earlier that she would work constructively with Cameron but cautioned that there would be no haggling over the principle of free movement and the principle of non-discrimination.
European lawmakers allied with Merkel warned that they will not accept any price for Cameron's renegotiation.
"We want Britain to remain in the European Union, but we cannot accept it at any price. That's very clear," European People's Party leader Joseph Daul told Reuters.
"We can still be friends," said Daul, who is French, when asked about EU ties if British people were to vote to leave the bloc in a referendum planned for before the end of 2017.